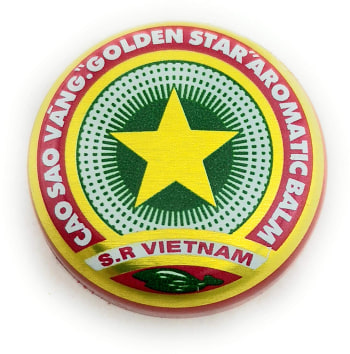 Golden Star Balm, 3 g (0.11 oz) Container
Our Price:
$1.59
(20% Off)
- Soothing traditional Vietnamese formula
- Bracing blend of aromatic essential oils
- Promotes clear sinuses and respiration**
What is Golden Star Balm?
An age-old Vietnamese formula, Golden Star balm is now available in a convenient 3 gram tin! Featuring a rare blend of vegetable and essential oils, this balm fits perfectly in any handbag, pocket or desk drawer and has been used for its soothing traditional Vietnamese formula for years.
How do I get started?
Golden Star balm has a variety of uses! Apply up to 4 times daily on the temples, neck, nose or back. Apply to insect bites to help offer soothing ease of discomfort.** Add to a bowl of boiling water or a hot bath and inhale the aromatic oils to support clear, healthy respiration and sinuses.** You'll soon discover the wonder that can be had in this little red tin!