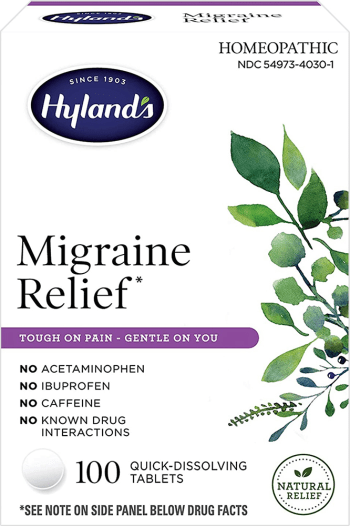 Migraine Headache Relief Homeopathic Formula, 100 Tablets
Our Price:
$10.59
(15% Off)
Drug Facts
Ingredients:
Active Ingredients | Purposes:
Glonoinum 12X HPUS: throbbing headache, vertigo
Belladonna 6X HPUS: pounding pain, light and noise sensitivity
Gelsemium 6X HPUS: dull headache, pressure
Nux Vomica 6X HPUS: frontal headache with vertigo
Iris Versicolor 6X HPUS: sick headache, blurred vision, nausea
Sanguinaria Canadensis 6X HPUS: headache over eyes
Inactive Ingredient: Lactose N.F.
Suggested Use:
Adults and Children over 12 years of age: Dissolve 1 or 2 tablets on tongue every 4 hours or as needed.
WARNING:
Ask a doctor before use if you have:
Never had migraines diagnosed by a health professional
Fever and stiff neck
Severe headache or headache caused by head injury
Daily headaches
Asthma
Bleeding problems
Ulcers
Vomiting with your migraine headache
Ask a doctor before use if pregnant or nursing.
Consult a physician if symptoms persist for more than 7 days or worsen.
Keep this and all medications out of the reach of children.
Do not use if imprinted tamper band is broken or missing.
In case of accidental overdose, contact a poison control center immediately. In case of emergency, the manufacturer may be contacted 24 hours a day, 7 days a week at 800/624-9659
Other Information:
"HPUS" indicates the active ingredients are in the official Homeopathic Pharmacopoeia of the United States.