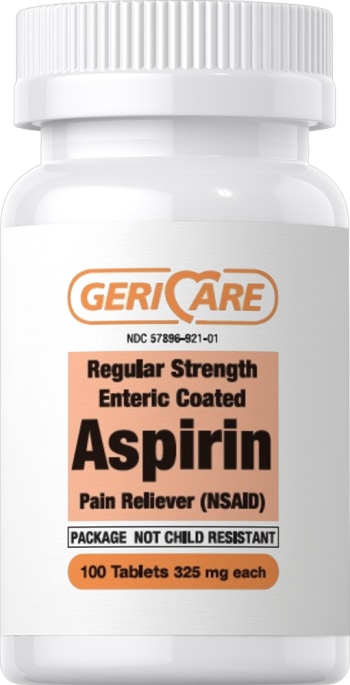 Enteric Coated Aspirin 325 mg, 100 Enteric Coated Tablets
SALE ENDS IN
-

Days

-

Hrs

-

Min

-

00

Sec
46%
Off
Drug Facts
Other Ingredients:
Active Ingredient (Purpose):
Aspirin 325 mg* (Pain Reliever)
*NSAID (nonsteroidal anti-inflammatory drug)

Inactive Ingredients: cellulose, D&C yellow #10 lake, FD&C yellow #6 lake, hypromellose, iron oxide, PEG, polydextrose, polyvinyl acetate phthalate, propylene glycol, shellac wax, silica, simethicone, sodium alginate, sodium bicarbonate, starch, stearic acid, talc, titanium dioxide, triacetin, triethyl citrate. May also contain acetylated monoglycerides, croscarmellose sodium, hypromellose phthalate, methacrylic acid, mineral oil, polysorbate 80, sodium lauryl sulfate.
Directions:
Drink a full glass of water with each dose.
Swallow whole, do not chew or crush.
Do not exceed recommended dose.

Take 1-2 tablets every 4 hours, as needed, not more than 12 tablets in 24 hours, or as directed by a doctor.
Claims:
Uses: For the temporary relief of minor aches and pains. Ask your doctor about other uses for aspirin.
WARNING:
Reye's Syndrome: Children and teenagers who have or recovering from chicken pox or flu-like symptoms should not use this product. When using this product, if changes in behavior with nausea and vomiting occur, consult a doctor becasue these symptoms could be an early sign of Reye's syndrome, a rare but serious illness.

Allergy alert: Aspirin may cause severe allergic reaction which may include: hives, facial swelling, asthma (wheezing), shock.

Stomach bleeding warning: This product contains an NSAID, which may cause sever stomach bleeding. The chance is higher if you are:
-age 60 or older
-have had stomach ulcers or bleeding problems, take a blood thinning (anticoagulant) or steroid drug, take other drugs containing prescription or nonprescription NSAID's (aspirin, ibuprofen, naproxen, or others),have 3 or more alcoholic drinks every day while using this product, take more or for a longer time then directed.

Do not use if you are allergic to aspirin or any other pain reliver/fever reducer.