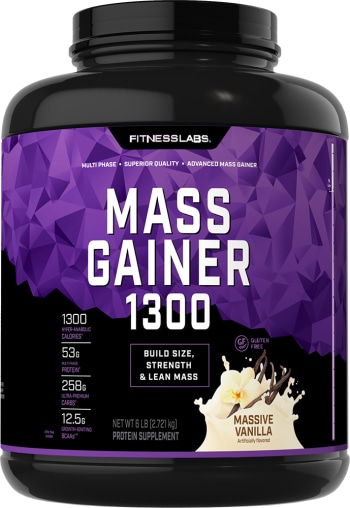 Mass Gainer 1300 (Massive Vanilla), 6 lb (2.721 kg) Bottle
Our Price:
$40.99
(25% Off)
Supplement Facts
Serving Size:

5 Scoops (340 g)

Servings Per Container:

8
product

Amount
Per Serving
% Daily
Value
(DV)
Calories
1300 Amount
Per Serving
Total Fat
6 gAmount
Per Serving
8

%*

Saturated Fat
2 gAmount
Per Serving
10

%*

Cholesterol
160 mgAmount
Per Serving
53 %

Daily Value

Total Carbohydrate
258 gAmount
Per Serving
94

%*

Total Sugars

Includes Added Sugars

25 gAmount
Per Serving

†

Protein
53 gAmount
Per Serving
106

%*

Vitamin D
0 mcgAmount
Per Serving
0 %

Daily Value

Calcium
290 mgAmount
Per Serving
22 %

Daily Value

Phosphorus
230 mgAmount
Per Serving
18 %

Daily Value

Magnesium
40 mgAmount
Per Serving
10 %

Daily Value

Sodium
150 mgAmount
Per Serving
7 %

Daily Value

Potassium
390 mgAmount
Per Serving
8 %

Daily Value
Other Ingredients:
Multi Phase Complex Carb Matrix (Medium-Length Glucose Polymers (Maltodextrin), Long Chain Potato Glucose Polymers (Potato Starch), High-Amylopectin Waxy Maize Starch (Waxy Maize), Extreme Mass Protein Stack (Whey Protein Concentrate, Micellar Casein, Whey Protein Isolate, Milk Protein Isolate),Sucrose, Cream, Lecithin, Artificial Flavors, Nonfat Dry Milk, Sucralose, Tocopherols, Ascorbyl Palmitate.
Directions:
Add approximately 5 scoops (340 g) (Scoop enclosed) of powder to 24-32 ounces of water or milk. Blend for 45 seconds until it is dissolved. Use milk for a creamier, milkshake consistency.

One serving (340 g) provides 53 grams of protein and 1300 calories.

Take 1/2 to 1 serving daily either at breakfast, between meals, within 45 minutes after a workout or before bed.
For best results, eat four meals of regulars food daily and combine with intense weight training.
WARNING:
This product is intended for healthy adults. If you are pregnant, nursing, taking any medication or have a medical condition, consult your physician before using this or any other dietary supplement. Keep out of reach of children.
Other Information:
Contains Milk and Soy.
Other Sizes
Related Products