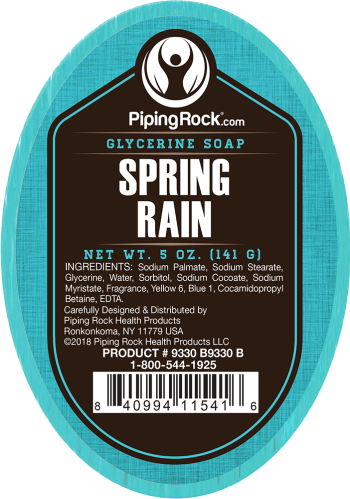 Spring Rain Glycerine Soap, 5 oz (141 g) Bars
Our Price:
$2.19
(24% Off)
Like Fresh Rain Dancing off Colorful Blossoms...
Fall into the bliss of a springtime shower each time you use PipingRock's Spring Rain Glycerine Soap!
Soap is created when vegetable oils meet an alkaline solution, which "saponifies" into glycerin (the substance that creates foam). When you use soap, it attaches the molecules of oils, dirt and grime on your body to water molecules, which take the dirt along with them when you rinse. It's that simple, and it's pretty neat!
Scented with the finest quality essential oils, PipingRock's Spring Rain Glycerine Soap will transform your shower into a refreshing spa, cleansing and moisturizing the skin while emitting a scent that is simply divine.
Other Sizes
Related Products