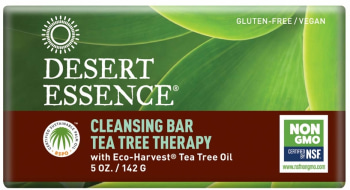 Tea Tree Therapy Bar Soap, 5 oz (142 g) Bar
Temporarily Out of Stock
Please check back soon
Our Price:
$4.49
(17% Off)
- Refreshingly therapeutic, providing tea tree oil and moisture-enriched jojoba oil**
- Soothes sensitive skin with aloe vera while leaving skin clean and silky smooth
- Use for face or body
Tea Tree therapy with Eco-Harvest® Tea Tree Oil
This bar is refreshingly therapeutic, providing Tea Tree Oil and moisture-enriched Jojoba Oil. This fine natural vegetable-based soap soothes sensitive skin with Aloe Vera while leaving your skin clean & silky smooth. Use for face or body. Also great for shaving.
This tea tree therapy bar soap is made using 100% sustainability harvested palm oil, which complies with the standards set by the Roundtable on Sustainable Palm Oil (RSPO). This ensures palm oil is sustainably & responsibly grown and harvested, does not damage plant & animal biodiversity, the livelihood of local communities & soil productivity.