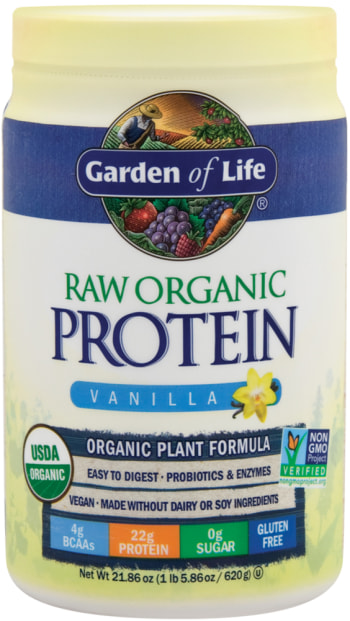 Raw Organic Plant Protein Powder (Vanilla), 21.86 oz (620 g) Bottle
Our Price:
$33.59
(29% Off)
Supplement Facts
Serving Size:
1 Scoop (31 g)
Servings Per Container:
20
Amount
Per Serving
% Daily
Value
(DV)
Calories
110
Total Fat
2.5 g
3%
Saturated Fat
0 g
0%
Polyunsaturated Fat
1 g
†
Monounsaturated Fat
0.5 g
†
Cholesterol
0 mg
0%
Total Carbohydrate
2 g
1%
Dietary Fiber
1 g
4%
Total Sugars

Includes 0g Added Sugars

0 g
0%
Protein
22 g
29%
Vitamin A
60 mcg
6%
Calcium
40 mg
4%
Iron
6 mg
35%
Magnesium
15 mg
4%
Zinc
2.8 mg
25%
Selenium
42 mcg
80%
Manganese
0.7 mcg
30%
Sodium
180 mg
8%
Potassium
47 mg
2%
Vitamin D** (400 IU)
10 mcg
50%
Vitamin E**
3 mg
20%
Vitamin K**
5 mcg
4%
Other Ingredients:
Raw Organic Protein Blend: Organic Pea Protein, Organic Sprouted Brown Rice Protein, Organic Amaranth Sprout, Organic Buckwheat Sprout, Organic Millet Sprout, Organic Cracked Wall Chlorella, Organic Quinoa Sprout, Organic Chia Seed Sprout, Organic Garbanzo Bean Sprout, Organic Lentil Sprout, Organic Adzuki Bean Sprout, Organic Flax Seed Sprout, Organic Sunflower Seed Sprout, Organic Pumpkin Seed Sprout, Organic Sesame Seed Sprout Organic Flavor Blend: Organic Vanilla Flavors, Organic Erythritol, Organic Stevia (Leaf), Sea Salt, Organic Guar Gum, Organic Carob Bean Gum. Raw Probiotic & Enzyme Blend: Lipase, Protease, Aspergillopepsin, Beta-Glucanase, Cellulase, Bromelain, Phytase, Lactase, Papain, Peptidase, Pectinase, Hemicellulase, Xylanase, [Lactobacillus Acidophilus, Lactobacillus Plantarum, Lactobacillus Bulgaricus] (3 Billion CFU).
Directions:
Mix 1 level scoop (scoop included) with 10 oz of water. Delicious with almond milk.
WARNING:
Keep out of reach of children.
Other Information:
Certified Organic by QCS. Made in the USA from foods grown in the USA and other countries.
Certified B Corporation: Certified by the nonprofit B Lab to meet rigorous standards of social and environmental performance, accountability and transparency.
**Vitamins A, D and K from culture of Saccharomyces cerevisiae. Vitamin E from Sunflower Oil.
Typical Amino Acid Profile (Per 31g Serving)
Alanine (900 mg)
Arginine (1800 mg)
Aspartic Acid (2500 mg)
Cystine (200 mg)
Glutamic Acid (3700 mg)
Glycine (850 mg)
Histidine (480 mg)
Isoleucine (1020 mg)
Leucine (1800 mg)
Lysine (1600 mg)
Methionine (240 mg)
Phenylalanine (1400 mg)
Proline (950 mg)
Serine (1300 mg)
Threonine (800 mg)
Tryptophan (200 mg)
Tyrosine (830 mg)
Valine (1100 mg)
† Daily Value (DV) not established.