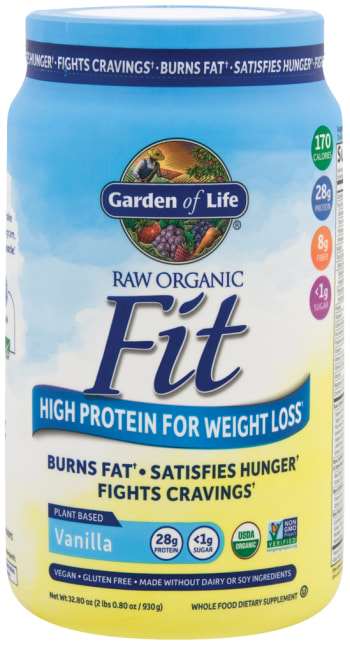 Raw Organic Fit Powder (Vanilla), 32.8 oz (930 g) Bottle
Our Price:
$43.39
(28% Off)
Supplement Facts
Serving Size:
1 Level Scoop (46.5 g)
Servings Per Container:
20
Amount
Per Serving
% Daily
Value
(DV)
Calories
170
Total Fat
2 g
3%
Saturated Fat
0 g
Trans Fat
0 g
Polyunsaturated Fat
1 g
Monounsaturated Fat
1 g
Total Carbohydrate
10 g
4%
Dietary Fiber
8 g
29%
Soluble Fiber
5 g
Insoluble Fiber
3 g
Total Sugars

Includes 0g Added Sugars

<1 g
Protein
28 g
38%
Vitamin C
1.2 mg
2%
Vitamin E (from Sunflower Oil)
15 mg
100%
Chromium (from Brown Rice Chelate)
35 mcg
100%
Sodium
150 mg
7%
Vitamin D (1000 IU)**
25 mcg
125%
Calcium²
150 mg
10%
Iron²
3 mg
15%
Potassium
90 mg
2%
Vitamin A**
280 mcg
30%
Vitamin K**
80 mcg
70%
Magnesium²
27 mg
6%
Raw Certified Organic Protein Blend

Organic Pea Protein, Organic Sprouted Brown Rice Protein, Organic Tapioca Fiber, Organic Chia Seed & Sprout, Organic Flax Seed & Sprout, Organic Cracked-Wall Chlorella, Organic Amaranth Sprout, Organic Quinoa Sprout, Organic Millet Sprout, Organic Buckwheat Sprout, Organic Garbanzo Bean Sprout, Organic Lentil Sprout, Organic Adzuki Bean Sprout, Organic Sunflower Seed Sprout, Organic Pumpkin Seed Sprout, Organic Sesame Seed Sprout

42 g
†
Raw Certified Organic Weight Loss & Stress Management Blend

Raw Organic Svetol® (Naturally Decaffeinated Green Coffee Bean Extract), Raw Organic Ashwagandha Root

700 mg
†
Raw Certified Organic Superfood Blend

Organic Baobab Fruit, Organic Cinnamon, Organic Daikon Radish Sprout, Organic Alfalfa Sprout

730 mg
†
Raw Probiotic & Enzyme Blend

[Lactobacillus acidophilus, Lactobacillus plantarum] (3 Billion CFU), Lipase, Protease, Aspergillopepsin, Beta-Glucanase, Cellulase, Bromelain, Phytase, Lactase, Papain, Peptidase, Pectinase, Hemicellulase, Xylanase

21 mg
†
Other Ingredients:
Organic Vanilla Flavors, Organic Erythritol, Organic Stevia Extract (Leaf), Sea Salt.
Directions:
Adults mix 1 level scoop in 10 ounces of water (scoop included). Delicious with unsweetened almond milk.
WARNING:
†These statements have not been evaluated by the Food and Drug Administration. This product is not intended to diagnose, treat, cure or prevent any disease.
Keep out of reach of children. As with any dietary supplement, consult your healthcare practitioner before using this product, especially if you are pregnant, nursing, anticipate surgery, take medication on a regular basis or are otherwise under medical supervision.
Other Information:
²Naturally occurring nutrients
**Vitamins A, D & K from culture of Saccharomyces cerevisiae.
Made in the USA from foods grown in the USA and other countries.
Organic Svetol® is a registered trademark of Naturex, Inc.
Certified Vegan by QCS
NSF Certified Gluten-Free
Typical Amino Acid Profile (Per 46.5 g Serving)
Alanine (1,420 mg)
Arginine (2,370 mg)
Aspartic Acid (3,080 mg)
Cystine (340 mg)
Glutamic Acid (4,710 mg)
Glycine (1,220 mg)
Histidine (670 mg)
Isoleucine (1,340 mg)
Leucine (2,340 mg)
Lysine (1,780 mg)
Methionine (450 mg)
Phenylalaline (1,540 mg)
Proline (1,290 mg)
Serine (1,490 mg)
Threonine (980 mg)
Tryptophan (290 mg)
Tyrosine (1,220 mg)
Valine (1,440 mg)
† Daily Value (DV) not established.
Other Sizes
Related Products