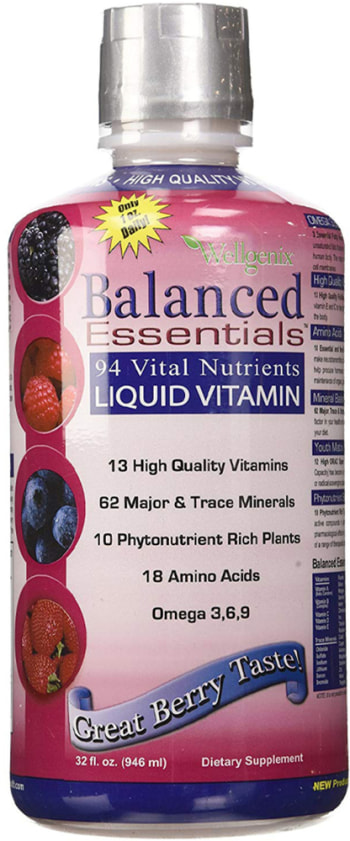 Balanced Essentials Plus Liquid Vitamin Multi (Berry), 32 fl oz (946 mL) Bottle
Our Price:
$34.95
(22% Off)
Supplement Facts
Servings Per Container:
32
Amount
Per Serving
% Daily
Value
(DV)
Calories
40
Total Carbohydrate
10 g
4%
Sugars
5 g
*
Vitamin A (as Beta-Carotene)
1500 mcg
167%
Vitamin C (as Calcium Ascorbate)
120 mg
133%
Vitamin D (as Cholecalciferol)
20 mcg
100%
Vitamin E (as d-Alpha Tocopheryl Acetate)
20 mg
133%
Vitamin K (Phytonadione)
120 mcg
100%
Thiamin (as Thiamin HCl)
1.5 mg
125%
Riboflavin (as Riboflavin)
1.7 mg
131%
Niacin (as Niacinamide)
20 mg
125%
Vitamin B6 (as Pyridoxine HCl)
2 mg
118%
Folate (as Folic Acid) (240 mcg Folic Acid)
400 mcg DFE
100%
Vitamin B12 (as Cyanocobalamin)
6 mcg
250%
Biotin
30 mcg
100%
Pantothenic Acid (as Calcium Pantothenate)
10 mg
200%
Calcium (Calcium Lactate Gluconate)
50 mg
4%
Iodine (as Potassium Iodine)
150 mcg
100%
Magnesium (Magnesium Gluconate)
25 mg
6%
Zinc (Gluconate)
11 mg
100%
Selenium (as Selenium Glycinate Complex)
70 mcg
127%
Copper (Copper Gluconate)
0.05 mg
56%
Manganese (as Manganese Gluconate)
2 mg
87%
Chromium (as Chromium Chloride)
35 mcg
100%
Molybdenum (as Sodium Molybdate)
45 mcg
100%
Sodium
10 mg
<1%
Potassium (as Potassium Citrate)
70 mg
1%
Proprietary Fruit Juice Blend

Grape Juice Concentrate, Blueberry Concentrate, Cherry Concentrate, Raspberry Concentrate, Cranberry Concentrate, Bosenberry Concentrate, Elderberry Extract, Acai Juice, Grape Skin Extract, Pear Concentrate, Black Currant Concentrate, Peach Concentrate

3.2 g
*
Amino Acid Complex

Alanine, Arginine, Aspartic Acid, Cysteine, Cystine, Glutamic Acid, Glutamine, Glycine, Histidine, Isoleucine, Leucine, Lysine, Methionine, Phenylalanine, Proline, Serine, Threonine, Tryptophan, Tyrosine, Valine

100 mg
*
Fruit & Vegetable Blend

Orange, Blueberry, Carrot, Pomegranate, Prune, Strawberry, Pear, Apple, Beet, Raspberry, Cherry, Pineapple, Pumpkin, Cauliflower, Grape, Cranberry, Broccoli, Spinach, Acai, Asparagus, Brussel Spout, Cucumber, Pea, Banana, Cabbage, Tomato, Kelp

25 mg
Grapeseed Extract
20 mg
*
Inositol
20 mg
*
Trace Mineral Blend

Chloride, Magnesium, Sulfate, Sodium, Potassium, Lithium, Boron, Bromide, Calcium Carbonate, Fluoride, Silicon, Nitrogen, Selenium, Phosphorus, Iodine, Chromium, Iron, Manganese, Titanium, Rubidium, Cobalt, Antimony, Molybdenum, Strontium, Zinc, Nickel, Tungsten, Scandium, Tin, Lanthanum, Yttrium, Barium, Silver, Gallium, Zirconium, Vanadium, Beryllium, Tellurium, Bismuth, Hafnium, Terbium, Europium, Gadolinium, Samarium, Cerium, Cesium, Gold, Dysprosium, Holmium, Lutetium, Thulium, Erbium, Ytterbium, Neodymium, Praseodymium, Niobium, Tantalum, Thorium, Thallium, Rhenium, plus other elements found in sea water

10 mg
*
Flax Seed Oil (Omega 3,6,9)
3 mg
*
Other Ingredients:
Purified Water, Vegetable Glycerin, Fructose, Citric Acid, Natural Flavors, Xanthan Gum, Potassium Sorbate (to protect freshness).
Directions:
Drink cold. Best if taken with food. Take 1 oz. two times a day for the first month, then a maintenance dose of 1 oz. per day.
Refrigerate after opening.
* Daily Value (DV) not established.