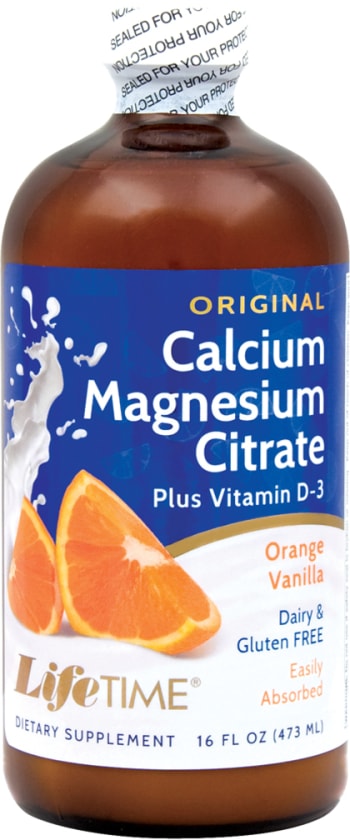 Calcium Magnesium Citrate plus D3 Liquid (Orange Vanilla), 16 fl oz (473 mL) Bottle
Our Price:
$16.49
(12% Off)
Supplement Facts
Serving Size:

1 Tablespoon (15 mL)

Servings Per Container:

32
product

Amount
Per Serving
% Daily
Value
(DV)
Calories
20 Amount
Per Serving
Total Carbohydrate
1 gAmount
Per Serving
1

%*

Sugars
1 gAmount
Per Serving
Vitamin D-3 (Cholecalciferol)
1000 IUAmount
Per Serving
250 %

Daily Value

Calcium (elemental) (as Calcium Citrate)
600 mgAmount
Per Serving
60 %

Daily Value

Magnesium (elemental) (as Magnesium Citrate)
300 mgAmount
Per Serving
75 %

Daily Value
Other Ingredients:
Purified Water, Fructose, Citric Acid, Natural Flavors, Xanthan Gum and Carrageenan Gum.
Directions:
Use only as directed. Shake vigorously before use. Take one tablespoon (15 mL) daily, alone or added to water, juice or your beverage of choice.

Store in a cool, dry place. Refrigerate after opening.
WARNING:
Keep out of reach of children. Keep your licensed health care practitioner informed when using this product.