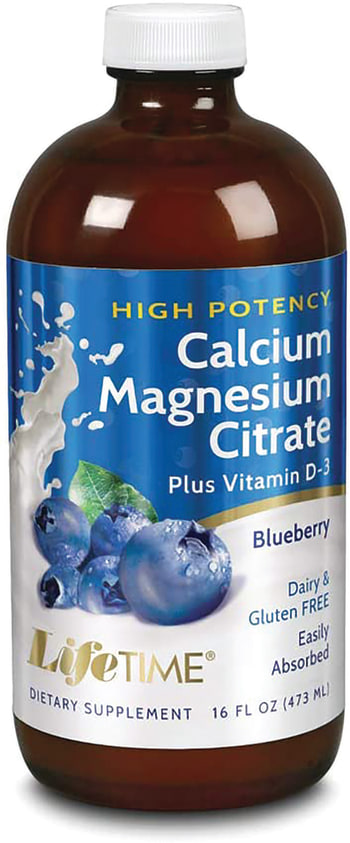 Calcium Magnesium Citrate plus D3 Liquid (Blueberry), 16 fl oz (473 mL) Bottle
Supplement Facts
Serving Size:

1 Tablespoon (15 mL)

Servings Per Container:

32
product

Amount
Per Serving
% Daily
Value
(DV)
Calories
15 Amount
Per Serving
Total Carbohydrate
4 gAmount
Per Serving
1 %

Daily Value

Sugars
1 gAmount
Per Serving

*

Vitamin D3 (as Cholecalciferol)
200 IUAmount
Per Serving
50 %

Daily Value

Calcium (from citrate elemental)
750 mgAmount
Per Serving
75 %

Daily Value

Magnesium (from citrate elemental)
300 mgAmount
Per Serving
75 %

Daily Value
Other Ingredients:
Purified Water, Fructose, Natural Flavors, Citric Acid, Xanthan Gum and Carrageenan Gum.

Contains no wheat, soy, gluten, milk, egg, artificial coloring, artificial flavoring or preservatives
Directions:
As a dietary supplement. One tablespoon daily from the bottle, in milk, or in juice. Some like it in honey or pudding. Also good for increasing calcium and magnesium content to baked goods and other recipes.
WARNING:
Shake well before serving. Refrigerate after opening.
Other Sizes
Related Products