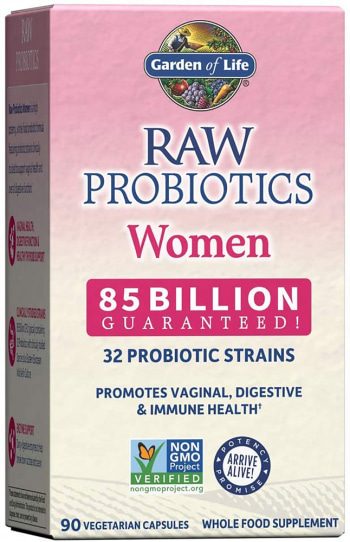 Raw Probiotics Women, 85 Billion CFU, 90 Vegetarian Capsules
Our Price:
$42.49
(23% Off)
Supplement Facts
Servings Per Container:
30
Amount
Per Serving
% Daily
Value
(DV)
Vitamin C
24 mg
27%
Vitamin D (500 IU)
12.5 mcg
63%
Vitamin E
8 mg
54%
Thiamin (Vitamin B1)
1 mg
83%
Riboflavin (Vitamin B2)
1.13 mg
87%
Vitamin B6
1.33 mg
78%
Folate
133 mcg DFE
33%
Vitamin B12
10 mcg
417%
Pantothenic Acid
1.9 mg
38%
Calcium
30 mg
2%
Iodine
50 mcg
33%
Magnesium
8.4 mg
2%
Selenium
23 mcg
42%
Copper
0.18 mg
20%
Manganese
0.67 mg
29%
Chromium
40 mcg
114%
Molybdenum
19.5 mcg
43%
RAW Whole Food Probiotic Blend (Total Cultures 85 Billion CFU**)

Bulgarian Yogurt Concentrate, Lactobacillus Plantarum, Lactobacillus Reuteri, Lactobacillus Rhamnosus, Bifidobacterium Bifidum, Bifidobacterium Lactis, Bifidobacterium Longum, Lactobacillus Acidophilus, Lactobacillus Bulgaricus, Lactobacillus Casei, Lactobacillus Gasseri, Eastern European Wild Kefir Culture containing Lactobacillus Helveticus, Lactobacillus Kefiranofaciens, Lactobacillus Kefirgranum Lactococcus Lactis, Lactococcus Cremoris, Streptococcus Thermophilus, Lactobacillus Kefir, Lactobacillus Parakefir, Lactobacillus Brevis, Lactococcus Lactis Biovar Diacetylactis, Leuconostoc Lactis, Leuconostoc Mesenteroides, Leuconostoc Cremoris, Leuconostoc Dextranicum, Kluyveromyces Marxianus, Brettanomyces Anomalous, Debaryomyces Hansenii, Saccharomyces Unisporus, Saccharomyces Turicensis, Saccharomyces Cerevisiae, Saccharomyces Exiguus, Torulaspora Delbrueckii Total Cultures 85 Billion CFU**

764 mg
*
Eastern European RAW Fruit & Veggie Blend

Red Bell Pepper (Fruit), Green Pea (Seed), Carrot (Root), Plum (Fruit), Cherry (Fruit), Strawberry (Fruit), Raspberry (Fruit)

207 mg
*
Dairy-Digesting Enzyme Blend

Lactase 600 ALU, Protease SP 20,000 HUT, Protease S 1,000 APU, Aspergillopepsin 10 SAPU

56 mg
*
Other Ingredients:
Organic Potato Starch, Vegetable Cellulose (Capsule), Organic Acacia Fiber, Organic Rice (Hull). (Contains dairy).
Directions:
Adults take 3 capsules per day, as divided servings. Can be taken with or without food. Not intended for children.
WARNING:
†These statements have not been evaluated by the Food and Drug Administration. This product is not intended to diagnose, treat, cure or prevent any disease.
Keep out of reach of children. As with any dietary supplement, consult your healthcare practitioner before using this product, especially if you are pregnant, nursing, giving product to children, anticipate surgery, take medication on a regular basis or are otherwise under medical supervision.
Other Information:
**At end of Best Use Date under recommended storage conditions.
Store in a dry place at 71°F (22°C) or below. Best if refrigerated.
Non-GMO. Gluten Free.
* Daily Value (DV) not established.
Other Sizes
Related Products