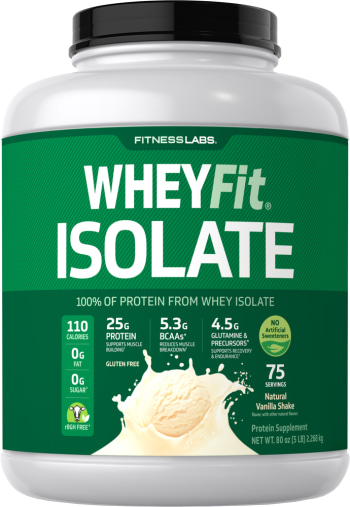 Whey Protein Isolate WheyFit (Natural Vanilla Breeze), 5 lb (2.268 kg) Bottle
Supplement Facts
Servings Per Container:
75
Amount
Per Serving
% Daily
Value
(DV)
Calories
110
Cholesterol
<5 mg
1%
Total Carbohydrate
1 g
1%*
Protein
25 g
50%*
Calcium
130 mg
10%
Phosphorus
55 mg
4%
Magnesium
15 mg
4%
Sodium
50 mg
2%
Potassium
140 mg
3%
Ingredients:
Whey Protein Isolate, Natural Flavors, Lecithin, Rebaudioside A (Purified Stevia Extract)
Directions:
For adults, add approximately 1 scoop (30 g) of powder to 8 ounces (1 cup) of water, milk, or juice. Stir or blend until smooth.
WARNING:
If you are pregnant, nursing, taking any medications or have any medical condition, consult your healthcare professional before using this or any other nutritional supplement. If any adverse reactions occur, immediately stop using this product and consult your doctor. If seal under cap is damaged or missing, do not use. Keep out of reach of children. Store in a cool, dry place.
Other Information:
Contains milk ingredients. Naturally Occurring Amino Acid Profile BCAAs–Essential Amino Acids Isoleucine 1.50 g, Leucine 2.60 g, Valine 1.23 g, Other Essential Amino Acids Histidine 0.40 g, Lysine 2.60 g, Methionine 0.54 g, Phenylalanine 0.78 g, Threonine 1.63 g, Tryptophan 0.43 g, Conditionally Essential Amino Acids Arginine 0.56 g, Cystine/Cysteine 0.70 g, Glycine 0.43 g, Glutamine & Precursors 4.58 g, Tyrosine 0.72 g, Non-Essential Amino Acids Alanine 1.23 g, Aspartic Acid 2.60 g, Proline 1.47 g Serine 0.9 g Retained Whey Fractions^
~55% Beta-Lactoglobulin
~20% Alpha-Lactalbumin
~18% Glycomacropeptides
~7% Serum Albumin, Immunoglobulins, Lactoferrin, Lactoperoxidase and more
^Approximate
* Percent Daily Values are based on a 2,000 calorie diet
Other Sizes
Related Products