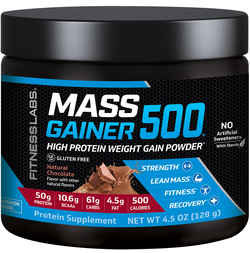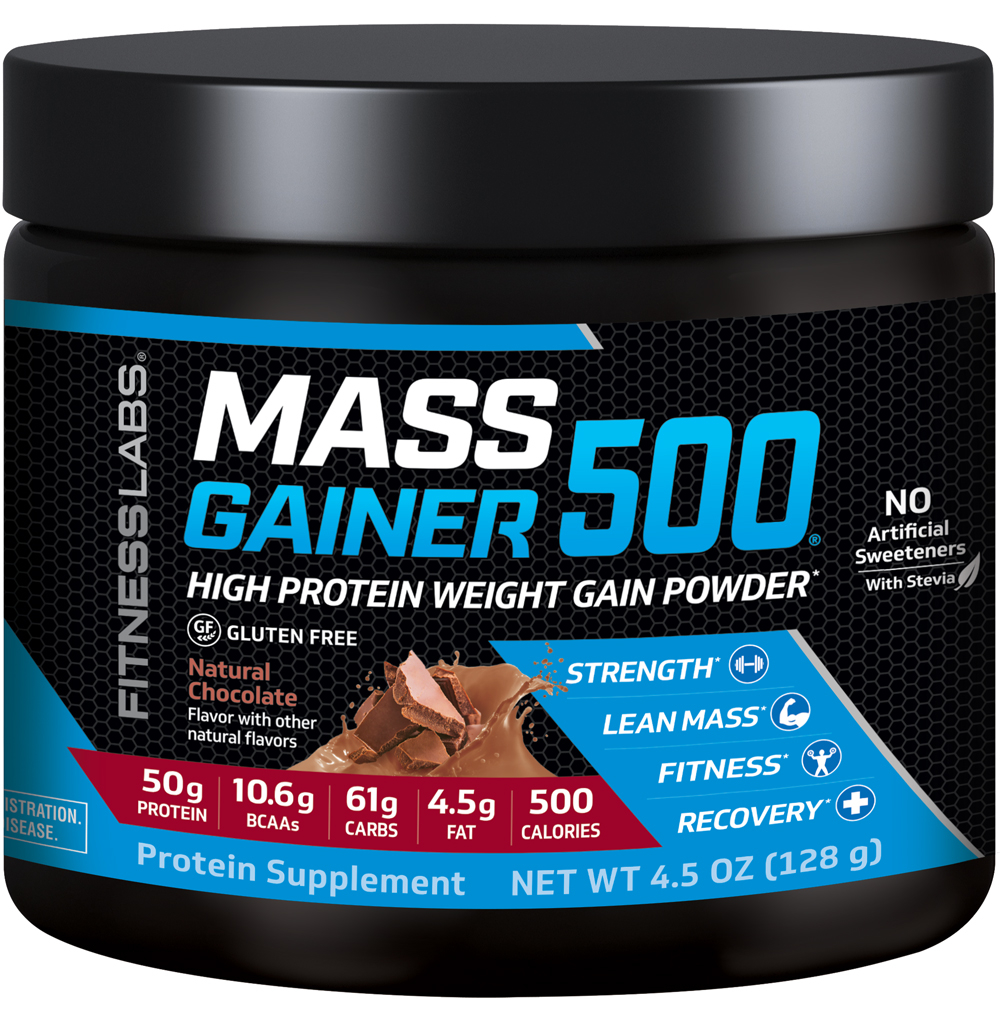 Mass Gainer 500 (Natural Chocolate) (Trial Size), 4.5 oz (128 g)
Supplement Facts
Serving Size:
1 Container (128 g)
Servings Per Container:
1
Amount
Per Serving
% Daily
Value
(DV)
Calories
500
Total Fat
4.5 g
6%*
Saturated Fat
3.5 g
18%*
Cholesterol
135 mg
45%
Total Carbohydrate
61 g
22%*
Dietary Fiber
6 g
21%*
Soluble Fiber
2 g
†
Insoluble Fiber
4 g
†
Total Sugars

Includes 12g Added Sugars

18 g
24%
Protein
50 g
100%*
Calcium
215 mg
17%
Iron
4 mg
22%
Phosphorus
265 mg
21%
Magnesium
90 mg
21%
Sodium
175 mg
8%
Potassium
720 mg
15%
Typical Amino Acids Profile Per Serving

BCAAs — Essential Amino Acids
Isoleucine (2.94g)
Leucine (4.94g)
Valine (2.77g)

Other Essential Amino Acids
Histidine (0.73g)
Lysine (4.63g)
Methionine (1.13g)
Phenylalanine (1.52g)
Threonine (3.60g)
Tryptophan (0.78g)

Conditionally Essential
Arginine (1.45g)
Cystine/Cysteine (1.24g)
Glycine (0.98g)
Glutamine & Precursors (8.44g)
Tyrosine (1.43g)

Non-Essential Amino Acids
Alanine (2.31g)
Aspartic Acid (5.35g)
Proline (3.08g)
Serine (2.68g)
Other Ingredients:
Gainer 500® Protein Blend (Whey Protein Concentrate, Whey Protein Isolate), Maltodextrin, Cocoa (Processed with Alkali), Organic Cane Sugar, Natural Flavors, Lecithin, Dextrin, Xanthan Gum, Rebaudioside A (Purified Stevia Extract). Contains milk, soy (lecithin).
Directions:
Add powder to 12 ounces (1 1/2 cups) of water or milk. Stir or blend until smooth. Use nonfat or lowfat milk for a creamier, milkshake consistency.
When to Use:
Take 1/2 to 1 serving daily either at breakfast, between meals, 45-60 minutes before a workout, within 45 minutes after a workout, or before bed.
For best results, eat four meals of regular food daily and combine with intense weight training.
WARNING:
This product is intended for healthy adults. Keep out of reach of children. If you are pregnant, nursing, taking any medication or have a medical condition, consult your physician before using this or any other dietary supplement.
Other Information:
Contains milk, soy (lecithin).
* Percent Daily Values are based on a 2,000 calorie diet
† Daily Value (DV) not established.
Other Sizes
Related Products