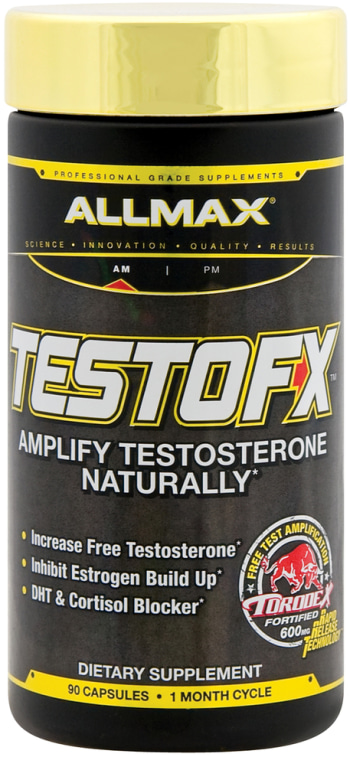 TestoFX, 90 Capsules
Our Price:
$39.99
(20% Off)
Supplement Facts
Serving Size:

3 Capsules

Servings Per Container:

30
product

Amount
Per Serving
% Daily
Value
(DV)
TorodeX™

Fenugreek (Trigonella Foenum Greacum) (Extract) Std. for 80% Grecunin

600 mgAmount
Per Serving

†

Sensoril®

Ashwagandha (Withania Somnifera, Root & Leaf) Extract, Std. for 8% Withanolides, 32% Oligosaccharides, 2% Wiphaferin-A

250 mgAmount
Per Serving

†

TribX90

(Tribulus Terrestris, Fruit) Extract, Std. for 90% Saponins

240 mgAmount
Per Serving

†

Alpha Lipoic Acid
200 mgAmount
Per Serving

†

Novaldim™ 3-3-Di-Indolyl-Methane (DIM)
200 mgAmount
Per Serving

†

Saw Palmetto (Serenoa Repens, Fruit) Extract, Std. for 45% Free Fatty Acids
100 mgAmount
Per Serving

†

Malaysian Tongkat Ali (Eurycoma Longifolia, Root Extract (100:1), Std. for 22% Eurypeptides, 40% Glyco Saponins
100 mgAmount
Per Serving

†

Myo-Inositol
50 mgAmount
Per Serving

†

Giant Knotweed (Polygonum Cuspidatum, Root) Extract Std. for 98% Resveratrol
50 mgAmount
Per Serving

†

Bioperine® Black Pepper (Piper Nigrum, Fruit) Extract
10 mgAmount
Per Serving

†
Ingredients:
Gelatin, Microcrystalline Cellulose, Silicon Dioxide, Magnesium Stearate, Titanium Dioxide, Capsule Text (Shellac, N-Butyl Alcohol, FD&C Red #40, FD&C Blue #1, Propylene Glycol, SDA 3A Alcohol, FD&C Yellow #6).
Directions:
Take 3 capsules of Super-Concentrated TestoFX daily with at least 8 ounces of water upon waking on both training and non-training days.

TestoFX has a 12-hour peak testosterone activity measurement. Morning administration will provide peak levels when your testosterone levels are naturally lowest, which is in the evening.

For optimum results, TestoFX should be cycled. Use TestoFX for a minimum of 8 weeks followed by 2 weeks off.
WARNING:
For adult use only. Use only as directed. Consult with a physician prior to use if you are currently taking any prescription medications. Do not take if you have any pre-existing medical conditions including but not limited to: high or low blood pressure, hypertension, cardiac arrhythmia, history of heart related ailments, stroke, heart, liver, or thyroid disease, anxiety, depression, seizure disorder, psychiatric disease, diabetes, pernicious anemia, prostate enlargement or if you are taking an MAO inhibitor or any other medication.

Do not use if you are pregnant, nursing, chronically ill or if you are at risk of being treated for diabetes or have any prostate complications. Discontinue use if you experience any adverse reactions (nervousness, chest pain, tremors, sleeplessness, loss of appetite or nausea, heart palpitations).

If you are chronically ill or under medical supervision, consult with your physician before taking product. Consumption of alcohol, other drugs or natural health products with sedative properties is not recommended. Consult a healthcare practitioner if you are taking hormone replacement therapy. Keep out of reach of children and pets.
Other Information:
Allergen Warning: Produced in a facility that also handles milk, soy, wheat, egg, peanuts, tree nuts, fish and shellfish.

Store in a cool, dry place.