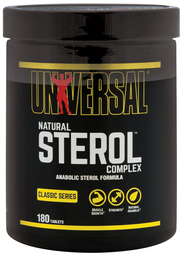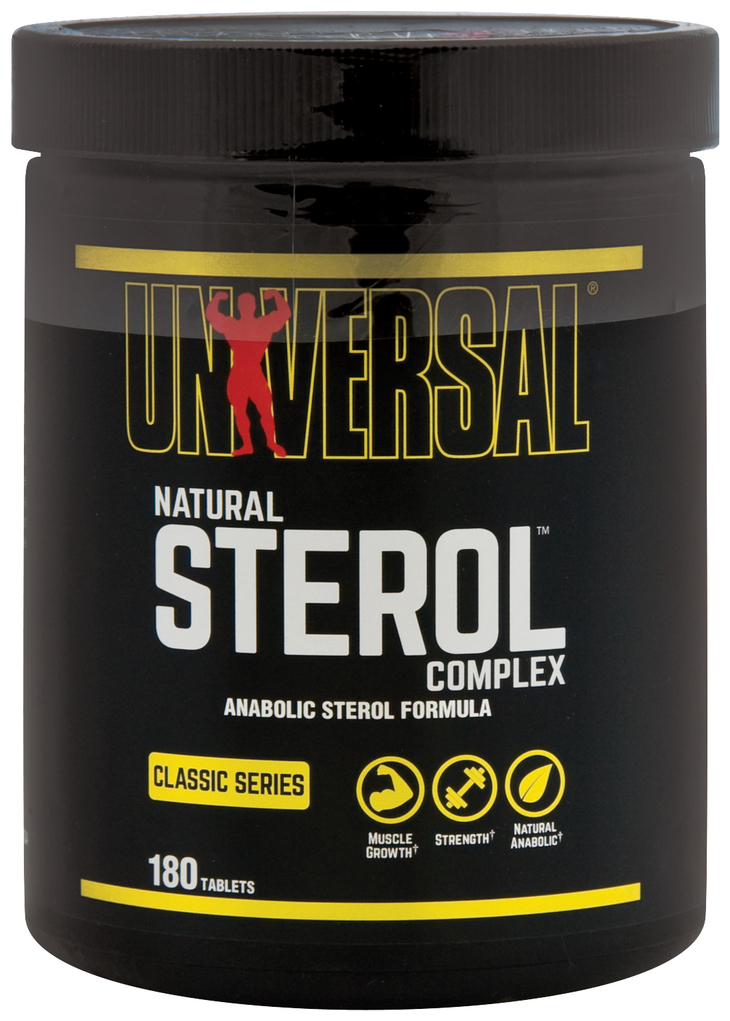 Natural Sterol Complex, 180 Tablets
Supplement Facts
Servings Per Container:
30
Amount
Per Serving
% Daily
Value
(DV)
Anabolic Sterol Complex

Phytosterols (Beta Sitosterol; Stigmasterol; Campesterol; Mixed Sterols), Tribulus Terrestris (Fruit), Kudzu (Root), Methoxyisoflavone, Beta Ecdysterone, 5,7-Dihydroxyflavone

2000 mg
†
Mass and Density Blend

Ashwagandha Extract (Whole Plant), Stinging Nettle Root, Panax Ginseng (Root), Kola Nut (Seed), Cissus Quadrangularis (Leaf), White Button Mushroom (Fruit), Gymnema Sylvestre (Leaf), Guarana (Seed)

2500 mg
†
OptiPhytonutrient Complex

Alfalfa (Leaf), Milk Thistle (Seed), Spirulina (Whole Plant), Dandelion Root, Garlic (Bulb), Ginger Root, Licorice Root, Wheat Grass (Leaf), Saw Palmetto (Fruit), Celery Seed, Cayenne (Fruit), Chlorella (Whole Plant)

2000 mg
†
EFA Complex & Support Blend (from Flax Seed Powder, Lecithin)

Alpha-Linoleic Acid, Linoleic Acid, Oleic Acid, Palmitic Acid, Stearic Acid, Phosphatidylcholine, Phosphatidylethanolamine, Phosphatidylinositol

500 mg
†
Muscle Cell Protection Blend

Green Tea Extract (Leaf), Ginkgo Biloba Leaf, Citrus Bioflavonoids (Peel), Grapeseed Extract, Lycopene

500 mg
†
Other Ingredients:
Dicalcium Phosphate, Microcrystalline Cellulose, Silicon Dioxide, Stearic Acid, Magnesium Stearate, Pharmaceutical Glaze. Contains wheat, soy.
Directions:
Take 3 to 6 tablets with any meal, or half an hour before training with plenty of water.
WARNING:
*These statements have not been evaluated by the Food and Drug Administration. This product is not intended to diagnose, treat, cure or prevent any disease.
Keep out of reach of children. This product is not for use by anyone under the age of 18. Consult with a physician before using this product. Athletes should consult with their sanctioning authority before use. Store product in a cool, dry place, away from heat, moisture, and sunlight.
† Daily Value (DV) not established.