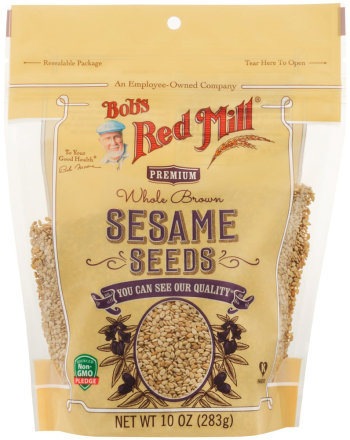 White Sesame Seeds, 10 oz Bag
Temporarily Out of Stock
Please check back soon
Our Price:
$3.99
(11% Off)
Ingredients:
White sesame seeds
Suggested Use:
Keeps best refrigerated or frozen
WARNING:
Manufactured in a facility that also uses tree nuts, soy, wheat and milk.
Other Information:
Sesame Seeds have a nutty, slightly sweet flavor and aroma that is enhanced by toasting. Sesame seeds are an excellent source of iron, magnesium and calcium. They can be added to salads, breads, buns and muffins — or use the entire package to make Tahini (recipe on back). Tahini is simply sesame paste that can be used to make the Middle Eastern staple, hummus or use it in the cookie recipe on the back of the package for a fruity treat.
Diets rich in whole grain foods and other plant foods low in total fat, saturated fat and cholesterol, may reduce the risk of heart disease and some cancers.