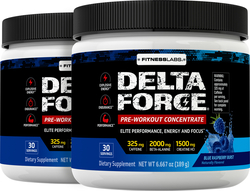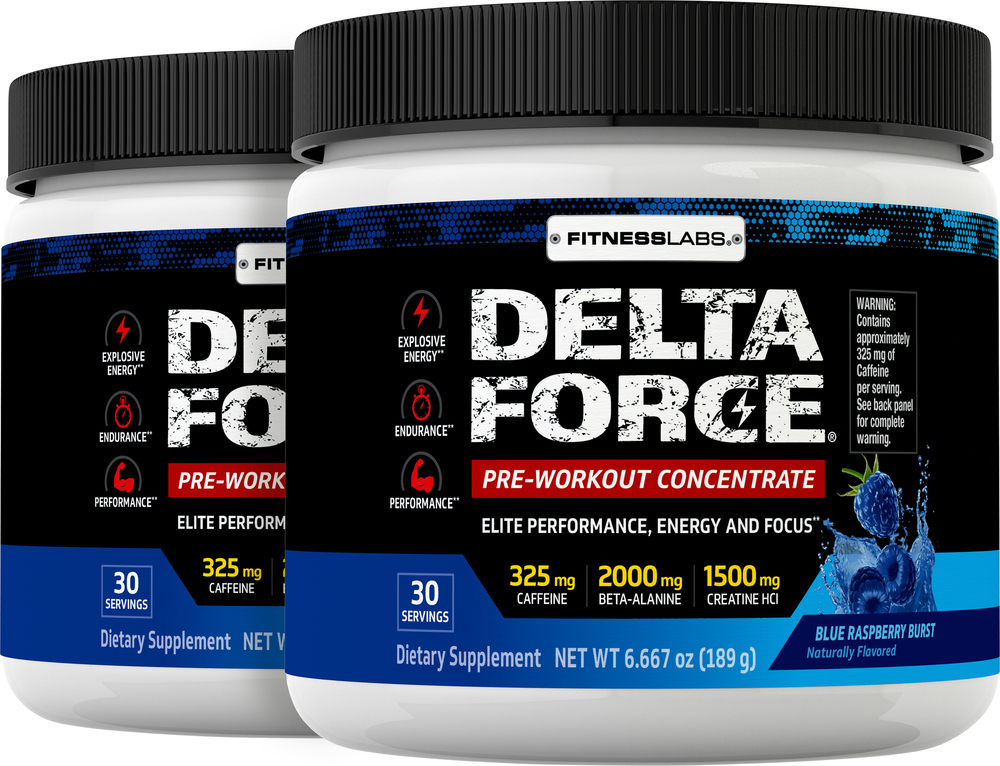 Delta Force Pre-Workout Concentrate Powder (Blue Raspberry Burst), 6.6 oz (189 g) Bottle, 2 Bottles
Temporarily Out of Stock
Please check back soon
Our Price:
$32.69
(25% Off)
DELTA FORCE — Dominate your Workout!
Fitness Labs DELTA FORCE is a hardcore pre-training drink designed for exercise performance, energy, and focus.** This powerful pre-workout is scientifically-crafted with superior ingredients to help you power through some of the toughest workouts, in pursuit of your fitness goals. With 4 levels of support, it is now easier to amp up your routine to reach elite levels of performance and dominate any workout.**
Explosive Intensity:
L-Tyrosine, Caffeine, and Lion's Mane supply extreme energy and scary focus.**
Muscular Endurance:
Beta-Alanine helps fight muscular fatigue and promotes endurance.**
Triple-Phase Pump Precursors:
Arginine AKG, Citrulline Malate, and Beet Root prime the nitric oxide system through three different pathways.**
Workout Performance:
Create HCL is a special, highly absorbable form of creatine that gets to work fast.
Blue Raspberry Blast!
Enjoy a satisfying Blue Raspberry Blast with our naturally flavored formula. Simply mix 1 heaping scoop with 10-12 ounces of water and take 15-30 minutes before training. Designed for serious weightlifters, athletes, and fighters of all kinds! Try this stim-crazy pre-workout for superior results.
Please Note: Contains approximately 325 mg of Caffeine per serving. Do not exceed one serving per day, do not take with stimulants or other sources of caffeine. Read all warnings before use
Other Sizes
Related Products