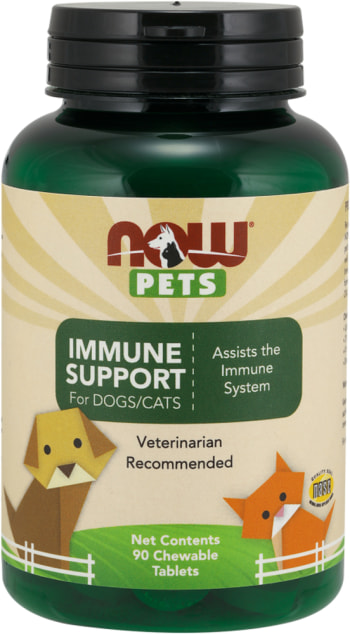 Immune Support Chewables for Dogs & Cats, 90 Tablets
Our Price:
$19.99
(33% Off)
Amount
Per Serving
% Daily
Value
(DV)
Organic Mushroom Blend.

A proprietary blend of [Trametes versicolor (Turkey Tail), Agaricus blazei (Sun Mushroom), Grifola frondosa (Maitake), Bionectria ochroleuca (Cordyceps sinensis Mushroom), Phellinus linteus, Hericium erinaceus (Lion's Mane), Ganoderma lucidum (Reishi) and Lentinula edodes (Shiitake)]

125 mg
Milk Thistle Extract
25 mg
Turmeric Root Extract
25 mg
Burdock Root
25 mg
Licorice Root
25 mg
Red Clover
25 mg
Ashwagandha Root Extract.
25 mg
Selenium (from Selenium Amino Acid Complex)
25 mcg
Other Ingredients:
Calcium Carbonate, Cellulose, Chicken Flavor, Chicken Liver Powder, Silica and Stearic Acid.
Suggested Use:
Directions for Use:
Up to 20 lbs. 1 tablet twice daily
21 to 40 lbs. 2 tablets twice daily
41 to 80 lbs. 3 tablets twice daily
Over 81 lbs. 4 tablets twice daily