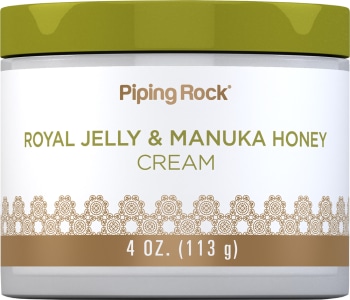 Manuka Honey Cream with Royal Jelly, 4 oz (113 g) Jar
Our Price:
$6.99
(40% Off)
Benefits of Manuka Honey Cream
Manuka Honey comes from New Zealand. The skin healing properties are well-known worldwide. In recent years the Manuka Honey has been formulated in a cream for both a skin and hair care product. Our Manuka Honey Cream works well as a facial moisturizer, which helps most skin types, to fight aging wrinkles and give relief to dry, sunburned or other related skin problems
What does Royal Jelly & Manuka Honey Cream do?
We add Royal Jelly because of its anti-aging properties and wrinkle-reducing power derived from the Queen Bee. Both carefully collected from the native ecosystems of these buzzing insects, PipingRock is pleased to present a perfectly balanced combination of Manuka Honey and Royal Jelly in a cream that'll leave your skin feeling moisturized, nourished and positively glowing! Applying this cream to dry skin will soak the skin in hydration while protecting it from the environmental factors we face every day.
Feel the rush of confidence and watch heads turn as your touchably soft skin evokes the attention it deserves! This non-greasy formula is suitable to wear underneath sunscreen and make-up.