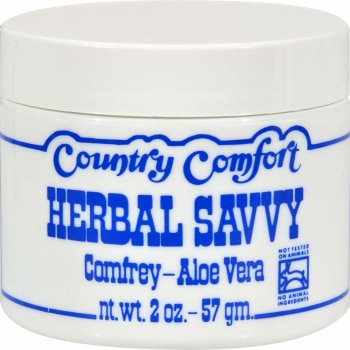 Herbal Savvy Comfrey Aloe Vera Cream, 2 oz (57 g) Jar
Our Price:
$7.99
(14% Off)
- A natural salve featuring comfrey & aloe vera
- Not tested on animals & contains no animal ingredients
- A powerful combination of gentle herbs
Herbal Savvy
Comfrey, St. John's Wort, Calendula and Aloe Vera cream is a powerful combination of very gentle herbs most effective to soothe burns, sunburns, rashes, diaper rash, insect bites, and chapped or dry skin. You will be amazed at how quickly it comforts.
A natural salve no medicine chest should be without! Contains safflower oil, sweet almond oil, beeswax, comfrey, St. John's wort, calendula, aloe vera and vitamins E, A & D.