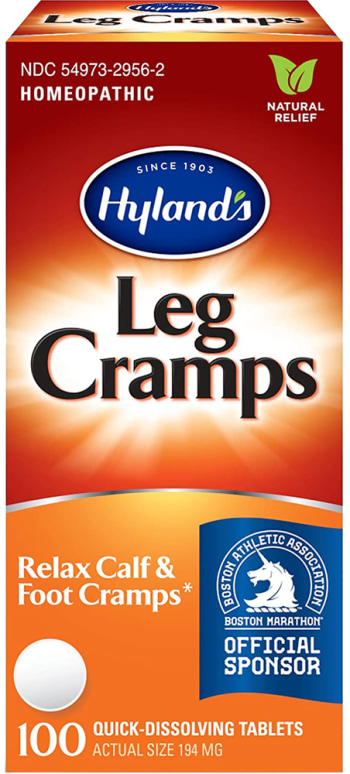 Leg Cramps, 100 Fast Dissolve Tablets
Our Price:
$12.75
(15% Off)
Drug Facts
Ingredients:
Aconitum Napellus 6X HPUS (pain in joints and legs)
Cinchona Officinalis 3X HPUS (pain in limbs and joints; cramping in legs)
Gnaphalium Polycephalum 3X HPUS (cramps in calves and feet)
Ledum Palustre 6X HPUS (pain and cramps in legs)
Magnesia Phosphorica 6X HPUS (muscle cramps)
Rhus Toxicodendron 6X HPUS (pain and stiffness)
Viscum Album 3X HPUS (pain in joints)
Inactive ingredients: Acacia Gum, Lactose.
Directions:
Adults and children ages 12 and over: Dissolve 2-3 tablets under tongue every 4 hours. If the initial dosage is not providing relief, dissolve 2-3 tablets under tongue every 15 minutes, up to 6 doses.
Under 12 years of age: consult a physician.
Claims:
Uses: Temporarily relieves the symptoms of stiffness, pain in the limbs, joints or legs, cramps in the calves, feet or legs.*
WARNING:
*Claims based on traditional homeopathic practice, not accepted medical evidence. Not FDA evaluated.
As with any drug, ask a doctor before use if: you are pregnant or breast-feeding.
In case of accidental overdose, contact a poison control center immediately. Hyland's may also be contacted for emergency information about our products 24 hours a day, 7 days per week at 800-624-9659.
Consult a physician if symptoms persist for more than seven days or worsen, or if sensitive to quinine.