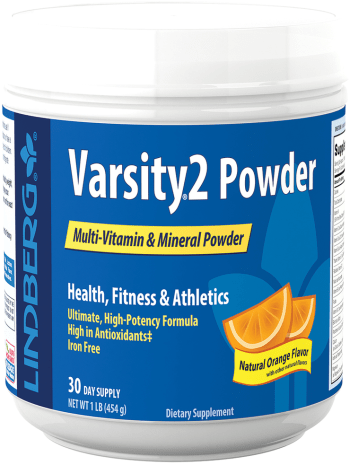 Varsity 2 Powder Multi-Vitamin & Mineral (Natural Orange) 30-day supply, 1 lb (454 g) Bottle
Supplement Facts
Serving Size:

1.5 Scoops (15 g)

Servings Per Container:

30
product

Amount
Per Serving
% Daily
Value
(DV)
Calories
40 Amount
Per Serving
Total Carbohydrate
10 gAmount
Per Serving
4 %

Daily Value

Vitamin A (50% from Beta-Carotene; 50% from Vitamin A Palmitate)
900 mcgAmount
Per Serving
100 %

Daily Value

Vitamin C (as Calcium Ascorbate)
1000 mgAmount
Per Serving
1111 %

Daily Value

Vitamin D (as D3 Cholecalciferol) (1,600 IU)
40 mcgAmount
Per Serving
200 %

Daily Value

Vitamin E (as d-Alpha Tocopheryl Succinate)
60 mgAmount
Per Serving
400 %

Daily Value

Thiamin (Vitamin B-1) (as Thiamin Mononitrate
25 mgAmount
Per Serving
2083 %

Daily Value

Riboflavin (Vitamin B-2)
25 mgAmount
Per Serving
1923 %

Daily Value

Niacin (as Niacinamide)
25 mgAmount
Per Serving
156 %

Daily Value

Vitamin B-6 (as Pyridoxine Hydrochloride
25 mgAmount
Per Serving
1471 %

Daily Value

Folate (240 mcg Folic Acid)
400 mcg DFEAmount
Per Serving
100 %

Daily Value

Vitamin B-12 (as Methylcobalamin)
200 mcgAmount
Per Serving
8333 %

Daily Value

Biotin (as d-Biotin)
500 mcgAmount
Per Serving
1667 %

Daily Value

Pantothenic Acid (as d-Calcium Pantothenate)
50 mgAmount
Per Serving
1000 %

Daily Value

Calcium (as Calcium Carbonate, Calcium Ascorbate, Calcium Citrate)
500 mgAmount
Per Serving
38 %

Daily Value

Iodine (as Potassium Iodide)
150 mcgAmount
Per Serving
100 %

Daily Value

Magnesium (as Magnesium Oxide, Magnesium Bisglycinate Chelate Buffered)
250 mgAmount
Per Serving
60 %

Daily Value

Zinc (as Zinc Picolinate)
15 mgAmount
Per Serving
136 %

Daily Value

Selenium (as Selenium Yeast)
200 mcgAmount
Per Serving
364 %

Daily Value

Copper (as Copper Amino Acid Chelate
0.5 mgAmount
Per Serving
56 %

Daily Value

Manganese (as Manganese Amino Acid Chelate)
1 mgAmount
Per Serving
43 %

Daily Value

Chromium (as Chromium Picolinate)
120 mcgAmount
Per Serving
343 %

Daily Value

Molybdenum (as Molybdenum Amino Acid Chelate)
45 mcgAmount
Per Serving
100 %

Daily Value

Sodium
10 mgAmount
Per Serving
1 %

Daily Value

Grape Seed Extract (Vitis vinifera) (Standardized to contain 70% Polyphenols)
25 mgAmount
Per Serving

*

Lutein (from Marigold Petal Extract) (Tagetes erecta)
1 mgAmount
Per Serving

*

Zeaxanthin (from Marigold Petal Extract) (Tagetes erecta)
200 mcgAmount
Per Serving

*

Lycopene
1 mgAmount
Per Serving

*

Boron (as Boron Citrate, Boron Glycinate, Boron Aspartate
1 mgAmount
Per Serving

*

Silica (as Silicon Dioxide)
2 mgAmount
Per Serving

*

Lemon Fruit Bioflavonoid Complex (with naturally-occurring Hesperidin, Diosmin, Rutin)
25 mgAmount
Per Serving

*
Other Ingredients:
Maltodextrin, Natural Flavors, Xanthan Gum, Stevia Extract.
Directions:
For adults, mix approximately one and a half (1.5) scoops (15 g) in 6-8 oz. of water, juice or protein shake and take once daily with food.
WARNING:
†These statements have not been evaluated by the Food and Drug Administration. This product is not intended to diagnose, treat, cure or prevent any disease.

Consult a physician before use if pregnant, nursing, taking medication, or have a medical condition. Keep out of reach of children. Store in a cool, dry place. Do not refrigerate.
Other Information:
Contains soy and fish (cod, cusk, flounder, haddock, hake, pollack, redfish, sole) ingredients.

This product is packaged and sold by weight, not by volume. Some settling may occur. Scoop inside is for convenience, not for exact measuring.