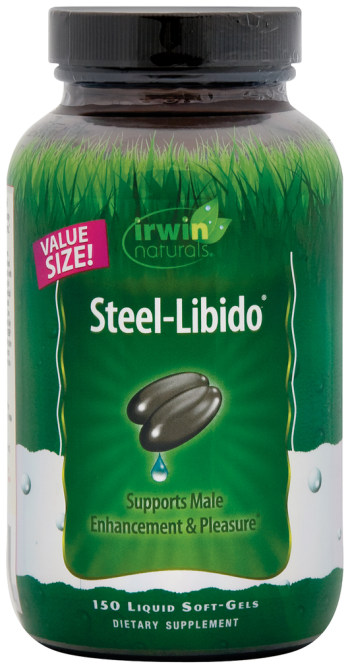 Steel-Libido, 150 Softgels
Our Price:
$39.99
(25% Off)
Supplement Facts
Servings Per Container:
75
Amount
Per Serving
% Daily
Value
(DV)
Flaxseed Oil
894 mg
†
L-Arginine (as L-Arginine Hydrochloride)
167 mg
†
Maca Powder (Root)
130 mg
†
Ashwaganda Powder (Root)
120 mg
†
Epimedium (Epimedium Sagittatum) (Horny Goat Weed) Extract (10% Icariins) (Aerial)
120 mg
†
Tribulus Extract (40% Saponins) (Plant)
120 mg
†
DMG (Dimethylglycine)
80 mg
†
Yohimbe Extract (2% Total Alkaloids) (Bark)
70 mg
†
L-Tyrosine
60 mg
†
CDP-Choline
50 mg
†
Cayenne Powder (30,000 HU)(Fruit)
50 mg
†
Asian Ginseng Extract (Root)
15 mg
†
NADH (Nicotinamide Adenine Dinucleotide)
0.5 mg
†
Bioperine Complex

Bioperine Black Pepper Extract (95% Piperine) (Fruit), Ginger Extract (5% Gingerols) (Rhizome)

3 mg
Other Ingredients:
Gelatin, Purified Water, Glycerin, Caramel Color, Soy Lecithin, Beeswax, Saint John's Bread (Carob). Contains soy.
Directions:
(Adult) For daily maintenance, take one (1) to four (4) Liquid Soft Gels per day divided into two or more doses, e.g. one (1) or two (2) in the morning and one (1) or two (2) in the afternoon with a full glass (8 oz) of water. Do not exceed four (4) Liquid Soft Gels per day.
For a more immediate response take one hour prior to intimacy. While the daily serving size is up to four (4) Liquid Soft Gels, it is strongly recommended that you explore whether or not you can achieve results at a lower daily dose. You may benefit from a smaller dose because everyone has different sensitivities to these ingredients.
For a daily dose, start with one (1) Liquid Soft Gel and build up to a maximum of four (4) only if needed.
Do not exceed 90 days of continual use of this product without a two (2) week break.
WARNING:
*These statements have not been evaluated by the Food and Drug Administration. This product is not intended to diagnose, treat, cure or prevent any disease.
Keep out of reach of children. This product contains ingredients that may affect blood pressure, heart conditions and/or blood pressure. Check with your doctor before using this product and engaging in activity, if you are using medication or have any medical conditions, including heart disease, or high/low blood pressure. Do not use if pregnant or nursing. Do not exceed recommended daily intake. Not intended for use by persons under 18 years of age. Store in a cool, dry place.
† Daily Value (DV) not established.
Other Sizes

Related Products