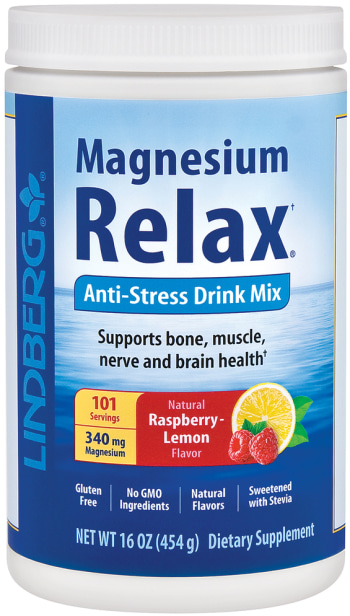 Magnesium Relax Powder (Natural Raspberry Lemon), 340 mg (per serving), 16 oz (454 g) Bottle
Our Price:
$21.49
(25% Off)
Supplement Facts
Serving Size:

0.5 Tablespoon (4.5 g)

Servings Per Container:

101
product

Amount
Per Serving
% Daily
Value
(DV)
Magnesium
340 mgAmount
Per Serving
81 %

Daily Value
Other Ingredients:
Citric Acid, Magnesium Carbonate, Natural Raspberry Flavor, Organic Stevia Extract (Leaf), Natural Lemon Flavor, Salt.
Directions:
Add 1/2 tablespoon of powder to 2-4 ounces of warm/hot water and stir until dissolved. Then add in cold water or your favorite juice and drink.

Citric acid and magnesium carbonate will effervesce to form ionic Magnesium Citrate when combined with water.
WARNING:
*These statements have not been evaluated by the Food and Drug Administration. This product is not intended to diagnose, treat, cure or prevent any disease.

Keep out of reach of children. Consult a physician before use if pregnant, nursing, taking medication, or have a medical condition. Store in a cool, dry place.