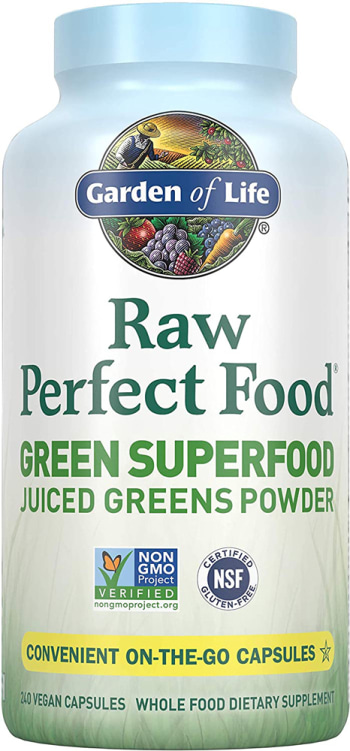 Raw Perfect Food Green Superfood, 240 Capsules
Our Price:
$32.19
(28% Off)
Supplement Facts
Serving Size:

8 Capsules

Servings Per Container:

30
product

Amount
Per Serving
% Daily
Value
(DV)
Calories
10 Amount
Per Serving
Total Carbohydrate
1 gAmount
Per Serving
1 %

Daily Value

Organic U.S.A. Farmed Green Juice Blend

Organic Barley Grass Juice, Organic Oat Grass Juice, Organic Wheat Grass Juice, Organic Kamut Grass Juice, Organic Alfalfa Grass Juice

3.5 gAmount
Per Serving

†

Organic Fruit & Veggie Juice Blend

Organic Apple (fruit), Organic Beet (root), Organic Carrot (root), Organic Spinach (leaf), Organic Broccoli (stalk & flower), Organic Tomato (fruit), Organic Kale (leaf), Organic Cabbage (leaf), Organic Parsely (leaf), Organic Brussels Sprout (fruit), Organic Green Bell Pepper (fruit), Organic Cucumber (gourd), Organic Celery (stalk), Organic Garlic (bulb), Organic Ginger (root), Organic Green Onion (bulb), Organic Cauliflower (flower & stem), Organic Asparagus (flower & stem)

1 gAmount
Per Serving

†

Organic Sprout Blend

Organic Amaranth Sprout, Organic Quinoa Sprout, Organic Millet Sprout, Organic Buckwheat Sprout, Organic Garbanzo Bean Sprout, Organic Lentil Sprout, Organic Adzuki Bean Sprout, Organic Flax Seed and Sprout, Organic Sunflower Seed Sprout, Organic Pumpkin Seed Sprout, Organic Chia Seed Sprout, Organic Sesame Seed Sprout

500 mgAmount
Per Serving

†

Raw Probiotic & Enzyme Blend

Lipase, Protease, Aspergillopepsin, beta-Glucanase, Cellulase, Bromelain, Phytase, Lactase, Papain, Peptidase, Pectinase, Xylanase, Hemicellulase, [Lactobacillus Plantarum, Lactobacillus Acidophilus, Lactobacillus Bulgaricus] 1.5 Billion CFU

30 mgAmount
Per Serving

†
Other Ingredients:
Vegetable Cellulose (Capsule).
Directions:
Adults take 8 capsules with water or juice one or more times daily. Not intended for children.
WARNING:
*These statements have not been evaluated by the Food and Drug Administration. This product is not intended to diagnose, treat, cure or prevent any disease.

Keep out of reach of children. As with any dietary supplement, consult your healthcare practitioner before using this product, especially if you are pregnant, nursing, anticipate surgery, take medication on a regular basis or are otherwise under medical supervision. Store in a cool, dry place.
Other Sizes
Related Products