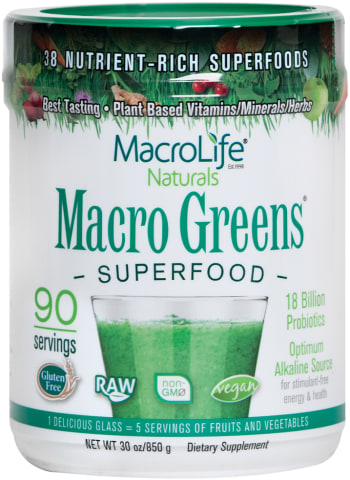 Macro Greens Superfood Powder, 30 oz (850 g) Bottle
Our Price:
$83.99
(30% Off)
Supplement Facts
Serving Size:
1 Tablespoon (9.4 g)
Servings Per Container:
90
Amount
Per Serving
% Daily
Value
(DV)
Calories
40
Calories from Fat
15
Total Fat
1.5 g
2%
Saturated Fat
0 g
0%
Cholesterol
0 mg
0%
Total Carbohydrate
6 mg
2%
Dietary Fiber
1 g
5%
Sugars
2 g
0%
Protein
1 g
0%
Vitamin A
450 IU
8%
Vitamin C
475 mg
790%
Vitamin E (as d-Alpha Tocopheryl Succinate)
100 IU
330%
Vitamin B12 (Cyanocobalamin)
3 mcg
50%
Calcium (as Calcium Citrate)
17 mg
2%
Iron
1.4 mg
8%
Magnesium (as Magnesium Glycinate)
3 mg
1%
Sodium
40 mg
2%
Nutrient Rich Super Food Blend

Certified Organic Barley Grass Juice Powder (1250 mg), Certified Organic Spirulina Powder (300 mg), Chlorella (Cracked Cell) (100 mg), Spinach Leaf Powder (83 mg), Policosanol (2 mg)

1735 mg
†
Non-Dairy Probiotic Cultures Min. Organisms (at mfg) Units

Lactobacillus Acidophilus, Lactobacillus Rhamnosus, Lactobacillus Bulgaricus, Bifidobacterium Breve, Bifidobacterium Longum

18 Billion
†
Antioxidant Proprietary Blend

Acerola Fruit Extract, Acerola Berry Powder, Citrus Bioflavonoids (inner peels Lemons, Oranges, and/or Grapefruits), Milk Thistle Extract (80% Silymarin) Green Tea Leaf Extract (60% Polyphenols), Grape Seed Extract (95% Proanthocyanidins)(30 mg), Rutin Ginkgo Biloba Leaf Extract (24% Flavone Glycosides, 6% Terpene Lactones) (10 mg)

1430 mg
†
Adaptogenic & Metabolic Herbs Proprietary Blend

Lecithin 99% Oil Free (Non-GMO), Red Raspberry Fruit Powder, Horsetail Stem Powder, Licorice Root Powder, Ginger Root Powder, Parsley Leaf Powder, Eleuthero Root Powder, Suma Root Powder, Astragalus Root Powder, Echinacea Angustifolia Root Extract (5% Echinacoside), Damiana Leaf Powder

2808 mg
†
Natural Fibers Proprietary Blend

Apple Pectin Cellulose Powder, Apple Fruit Powder (fiber), Certified Organic Flax Seed Meal

1225 mg
†
Harmonizing & Support Herbs Proprietary Blend

Aloe Vera Leaf Powder (600 mg), Watercress Leaf Powder, Carrot Powder, Yucca Root Powder, Certified Organic Beet Root Powder, Stevia, Dulse, Prickly Pear Leaf Powder (Nopal)

1475 mg
†
Natural Plant Enzymes Proprietary Blend

Protease, Cellulase, Amylase, Lipase

200 mg
†
Other Ingredients:
Natural Flavors.
Directions:
Mix 1 Tbsp into 10-12 ounces of your favorite non-citrus juice, water, smoothie, or protein shake. For best results and taste mix into 1/2 apple juice and 1/2 water. Enjoy daily.
Other Information:
Store in a cool dry place. Best when used within 90 days. Taste may change depending on harvesting season.
† Daily Value (DV) not established.