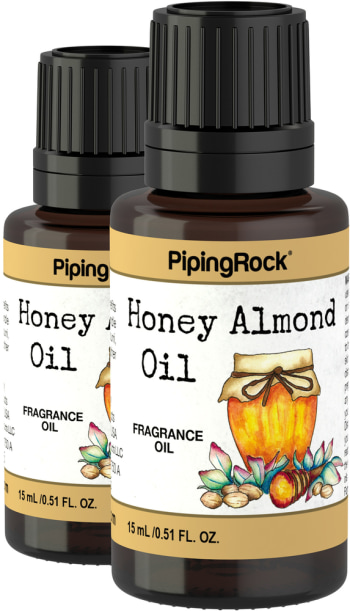 Honey Almond Fragrance Oil, 1/2 fl oz (15 mL) Dropper Bottle, 2 Dropper Bottles
Our Price:
$6.19
(25% Off)
Honey and almonds have a natural budding relationship. Enjoy the sweet and nutty aroma that is great for DIY projects. PipingRock's Honey Almond fragrance oil has nectar rich aroma that's sweet enough for a bee but created for you
Fragrance
A sweet honey and nutty almond aroma.
Flash Point
249°F
History of Honey Almond
Honey bees produce the honey that is consumed by most people; and is used in food and drinks as a sweetener. Almonds come from an almond tree, in order to eat the almond, you must remove the outer hard shell. A fun fact: Every spring in California's Central valley honey bees are brought in to country to pollinate almond blossoms.
How to use Honey Almond
Be the sweetest with honey almond fragrance oil and use in your candle making, incense, potpourri, soaps, deodorants and other bath and body products!
To learn how to make your own unique homemade candles, check out this simple step-by-step on The Pipe Line!
PipingRock's Promise
We proudly offer you everything you need for an advanced, daily Aromatherapy regiment at the lowest cost in the industry! From Essential Oils to Carrier Oils, Diffusers to Blending Bottles, Beeswax, Books & more, we have you covered. With over 100 Essential Oils to choose from, you can create your own homemade scents and beauty products. Enjoy various blends & Essential Oils Sprays or experience our revitalizing, botanical Massage Oils!
About PipingRock's Quality
You've found your One-Stop-Shop for Aromatherapy products at PipingRock. Our Essentials Oils are crafted in our own "GMP Certified" manufacturing facilities. We verify PipingRock products with third-party, FDA-registered agencies to ensure quality. Each product goes through hundreds of checks, in-process and post-production. Our outstanding Essential Oils are GCMS tested to deliver guaranteed purity. We offer various 100% Pure Essentials along with other popular, unique blends. We guarantee purity, potency, safety and innovation in everything we do.
Other Sizes
Related Products