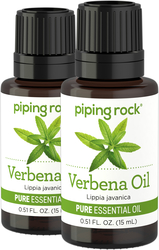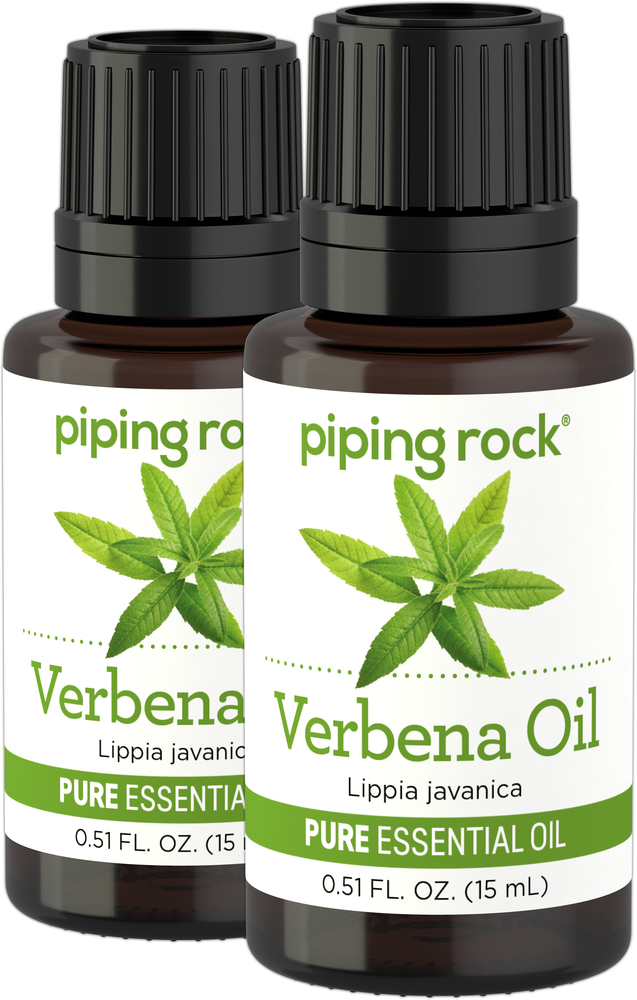 Verbena Pure Essential Oil (GC/MS Tested), 1/2 fl oz (15 mL) Dropper Bottle, 2 Dropper Bottles
Our Price:
$16.49
(25% Off)
Temporarily Out of Stock
Please check back soon

Also known as lemon bush, verbena is a flowering plant and member of the Verbenaceae family. This erect, woody shrub is native to southern and western Africa, where it can reach a height of 6 feet and sports small, white-yellow flowers. Emitting its distinctly fruity aroma, verbena oil is a popular choice for many aromatherapists!
Plant Part Used
Aerial parts
Extraction Method
Steam distilled
Aroma
Medium. Lemony with notes of pepper.
Verbena Oil Benefits
Calms & soothes. Helps to gently ease occasional stress & cloudy moods. Helps keep pesky bugs at bay.
Blends Well With
Angelica, Benzoin, Cedarwood, Grapefruit, Mandarin, Neroli, Palmarosa, Petitgrain, Yarrow
History of Verbena
Thanks to its native growing habitat, verbena has been a timeless part of human history. It was used in many ancient purifying rituals, in particular to cleanse altars after ceremonial rituals. The Xhosa people of South Africa drink tea made from the leaves of this plant, as well as use the leaves and oils to preserve meat. The ancient Greeks would place verbena on and beneath their pillows to encourage peace and tranquility.
Using Verbena Essential Oil
All essential oil blends are for aromatherapy use only and are not for ingesting!
South African Skin Serum
Harness the power of these skin-supportive oils to create your very own anti-aging secret!
3 drops Verbena Essential Oil
2 drops Rose Essential Oil
3 drops Carrot Seed Essential Oil
1 drop Lavender Essential Oil
Just 5 More Minutes…
Discover the joy of a deep, restful sleep that'll leave you refreshed & ready to take on the day!
4 drops Lavender Essential Oil
2 drops Verbena Essential Oil
2 drops Chamomile Essential Oil
1 drop Vetiver Essential Oil
Aromatherapy Uses
Bath & Shower
Add 5-10 drops to hot bath water, or sprinkle into shower steam before getting in for an at-home spa experience.
Massage
8-10 drops of essential oil per 1 ounce of carrier oil. Apply a small amount directly to areas of concern, such as muscles, skin, or joints. Work the oil gently into the skin until it is fully absorbed.
Inhalation
Inhale the aromatic vapors directly from the bottle, or place a few drops in a burner or diffuser to fill a room with its scent.
DIY Projects
This oil can be used in your homemade DIY projects, such as in candles, soaps and other body care products!
PipingRock's Promise:
We proudly offer you everything you need for an advanced, daily Aromatherapy regiment at the lowest cost in the industry! From Essential Oils to Carrier Oils, Diffusers to Blending Bottles, Beeswax, Books & more, we have you covered. With over 100 Essential Oils to choose from, you can create your own homemade scents and beauty products. Enjoy various blends & Essential Oils Sprays or experience our revitalizing, botanical Massage Oils!
About PipingRock's Quality:
You've found your One-Stop-Shop for Aromatherapy products at PipingRock. Our Essentials Oils are crafted in our own "GMP Certified" manufacturing facilities. We verify PipingRock products with third-party, FDA-registered agencies to ensure quality. Each product goes through hundreds of checks, in-process and post-production. Our outstanding Essential Oils are GCMS tested to deliver guaranteed purity. We offer various Pure Essentials along with other popular, unique blends. We guarantee purity, potency, safety and innovation in everything we do.