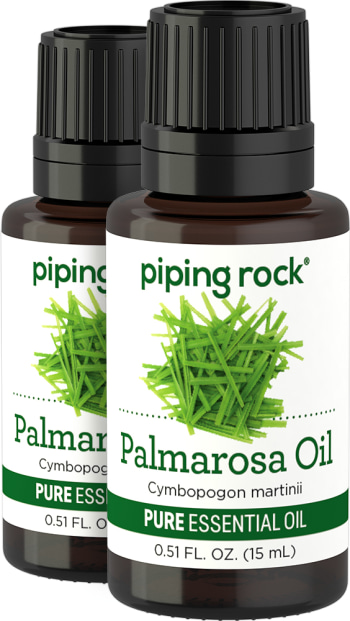 Palmarosa Pure Essential Oil (GC/MS Tested), 1/2 fl oz (15 mL) Dropper Bottle, 2 Dropper Bottles
Our Price:
$10.69
(25% Off)
Native to India and other regions of Southeast Asia, palmarosa is a perennial flowering grass. The tall slender leaves of the grass are the source of its essential oil. Extracted since the 18th century, Palmarosa oil carries a fresh and slightly rosy scent. Due to its enticing fragrance, palmarosa is often found in body care products and perfumes.
Plant Part Used
Grass
Extraction Method
Steam distillation
Aroma
Medium. Citrusy and floral.
Palmarosa Essential Oil Benefits
Rejuvenating and stabilizing. Helps ease occasional exhaustion and tension related to nervousness and insecurity. Promotes soothing serenity.
Blends Well With
Amyris, Bergamot, Carrot Root, Carrot Seed, Cedarwood, Citronella, Clary Sage, Geranium, Ginger, Grapefruit, Lavender, Lemon, Lemongrass, Lime, Neroli, Orange, Petitgrain, Rose, Rosemary, Sandalwood, Tea Tree, Ylang Ylang
History of Palmarosa
The long thin grass has long been utilized to create an effective and remarkably pleasant-smelling way to keep pesky insects at bay. While palmarosa's fresh and subtly flowery scent is balancing and energizing, its more tangible benefits are considerable, since it has a hydrating quality that helps to support moisturized skin.
Using Palmarosa Essential Oil
All essential oil blends are for aromatherapy use only and are not for ingesting!
Fresh Cut Grass
What happens when you blend these three renowned grass-derived essential oils? A refreshing, stress-busting sensory indulgence that simply must be experienced!
6 drops Palmarosa Essential Oil
4 drops Citronella Essential Oil
4 drops Lemongrass Essential Oil
Hydrating Skin Serum
Smooth, supple and youthful-looking skin is well-hydrated skin!
1 ounce Sweet Almond Carrier Oil
8 drops Palmarosa Essential Oil
4 drops Lavender Essential Oil
4 drops Sweet Orange Essential Oil
4 drops Carrot Seed Essential Oil
4 drops Geranium Essential Oil
Aromatherapy Uses
Bath & Shower
Add 5-10 drops to hot bath water, or sprinkle into shower steam before getting in for an at-home spa experience.
Massage
8-10 drops of essential oil per 1 ounce of carrier oil. Apply a small amount directly to areas of concern, such as muscles, skin, or joints. Work the oil gently into the skin until it is fully absorbed.
Inhalation
Inhale the aromatic vapors directly from the bottle, or place a few drops in a burner or diffuser to fill a room with its scent.
DIY Projects
This oil can be used in your homemade DIY projects, such as in candles, soaps and other body care products!