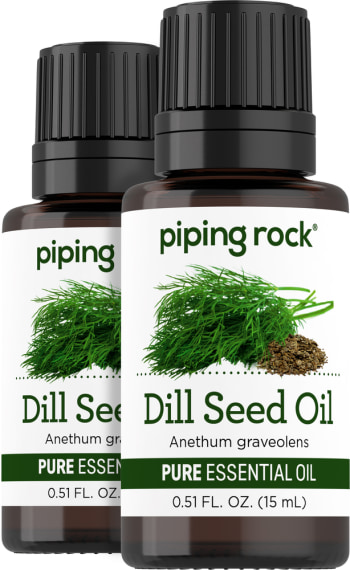 Dill Seed Pure Essential Oil (GC/MS Tested), 1/2 fl oz (15 mL) Dropper Bottle, 2 Dropper Bottles
Our Price:
$8.99
(25% Off)
A member of the celery family, dill is an annual herb native to southwestern Asia and naturalized throughout Europe and the United States. It grows up to 2 feet tall and sports slender, hollow stems, delicate leaves and pale yellow flowers. Used in various applications across cultures, dill seed oil is a wonderful addition to any aromatherapy routine and is a particular favorite as a substitute for caraway oil!
Plant Part Used
Seeds
Extraction Method
Steam distillation
Aroma
Strong. Dry and fresh with warm, spicy notes.
Dill Seed Essential Oil Benefits
Promotes serenity as it helps to calm occasional nerves. Ignites spirituality and the passions. Promotes sharp memory and mental clarity.
Blends Well With
Black Pepper, Caraway, Cinnamon, Citrus Oils, Clove, Elemi, Nutmeg, Peppermint, Spearmint
History of Dill Seed
Dill (Anethum graveolens) derives its name from the Greek word "aneeton," meaning "strong smell." It's no wonder it's earned this title as dill seed emits a significant dry, spicy fragrance, similar to that of caraway and sweet fennel oils. It's history of use is far-reaching; during Medieval times, the herb was used to ward off witchcraft. From the 5th through 11th centuries, Anglo-Saxon people revered the herb for skincare. Dill has also been an essential ingredient in Roman, Scandinavian and Indian cuisines, and is the core flavoring of dill pickles and many herbal teas!
Using Dill Seed Essential Oil
All essential oil blends are for aromatherapy use only and are not for ingesting!
Mindful Meditation
Diffuse this blend during meditation to help your mind reach a higher level of awareness…
4 drops Dill Seed Essential Oil
3 drops Caraway Essential Oil
3 drops Elemi Essential Oil
​1 drop Peppermint Essential Oil
Aromatherapy Uses
Bath & Shower
Add 5-10 drops to hot bath water, or sprinkle into shower steam before getting in for an at-home spa experience.
Massage
8-10 drops of essential oil per 1 ounce of carrier oil. Apply a small amount directly to areas of concern, such as muscles, skin or joints. Work the oil gently into the skin until it is fully absorbed.
Inhalation
Inhale the aromatic vapors directly from the bottle, or place a few drops in a burner or diffuser to fill a room with its scent.
DIY Projects
This oil can be used in your homemade DIY projects, such as in candles, soaps, and body care products!