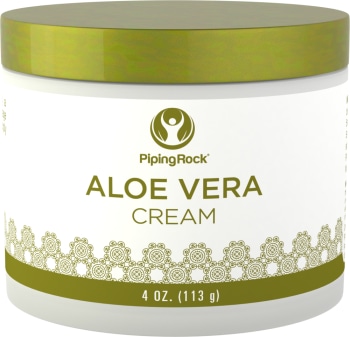 Aloe Vera Moisturizing Cream, 4 oz (113 g) Jar
Our Price:
$4.99
(25% Off)
What is Aloe Vera?
Perhaps one of the world's most familiar succulents, aloe vera has been a staple in wellness applications for thousands of years. Within the plant's fleshy green barbed leaves lies aloe vera's famous gel, which is best known for offering soothing and cooling comfort when your skin has had too much sun.
What does Aloe Vera Moisturizing Cream do?
Made from the finest quality hand-picked aloe plants, PipingRock's Aloe Vera moisturizing cream goes to work immediately, absorbing quickly and easily while offering sublime hydration and helping to keep skin supple and youthful. Aloe vera' s legendary soothing properties nourish dry and dull skin, delivering beneficial nutrients to encourage long-term softness and age-defying beauty!
Tap into the grace and wonder of this historically beloved plant and find out just how vibrant your skin can be when you add our Aloe Vera Cream to your daily beauty regimen! This non-greasy cream is suitable to wear underneath sunscreen and make-up.
Other Sizes
Related Products