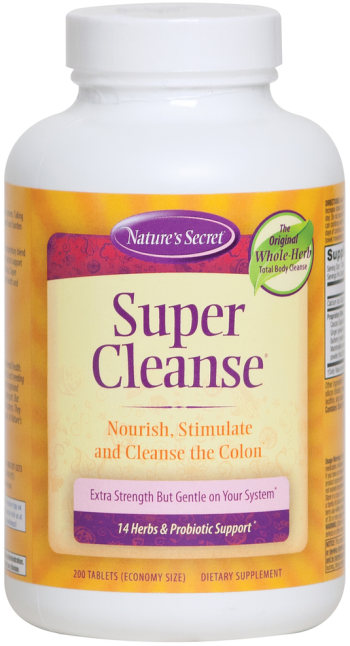 Super Cleanse, 200 Tablets
Our Price:
$19.99
(17% Off)
Supplement Facts
Serving Size:

1 Tablet

Servings Per Container:

200
product

Amount
Per Serving
% Daily
Value
(DV)
Calcium (as Calcium Carbonate)
75 mgAmount
Per Serving
7 %

Daily Value

Proprietary Blend

Cascara Sagrada Powder (bark), Fennel Powder (seed), Licorice (Glycyrrhiza glabra) Powder (root), Ginger Powder (root), Irish Moss (Chondrus crispus) Powder (leaf), Slippery Elm Powder (bark), Barberry Powder (bark, root), Cayenne Powder (fruit), Chlorella Powder Lactobacillus Acidophilus (dairy free), Marshmallow Powder (root), Red Raspberry (Rebus idaeus) Powder (leaf), Triphala Powder (Amla (fruit), Belleric Myrobalan Powder (fruit), Chebulic Myrobalan Powder (fruit)

624 mgAmount
Per Serving

†
Other Ingredients:
Microcrystalline Cellulose, Stearic Acid, Gum Arabic, Croscarmellose Sodium, Silicon Dioxide, Magnesium Stearate, Sodium Carboxymethylcellulose, Dextrin, Dextrose, Soy Lecithin, Sodium Citrate. Contains dairy, soy.
Directions:
(Adult) Start with 1 tablet in the morning and 1 tablet in the evening. Increase intake by 1 tablet every other day until you achieve 2-3 formed bowel movements per day.

Do not exceed 3 tablets twice per day. Once you find the correct number of tablets you can continue with that amount for enhanced internal cleansing for up to 30 days.

Do not exceed 30 days of continual use of this product. Take only as much product as is needed to achieve 2-3 good bowel movements per day. Drink 8 to 10 glasses of water per day.
WARNING:
Check with your doctor before using this product if you are using medication, including diuretics, heart medications and corticosteroids, or have any medical conditions. Do not use if you have an intestinal obstruction, hemorrhoids or other intestinal disorder. Do not use if you are taking any other product concurrently that has laxative effects. Do not use if you are pregnant or nursing. Not intended for use by persons under 18 years of age. Keep out of reach of children.

This product is not intended to be used without breaks. Cascara Sagrada belongs to a family of plants containing compounds with laxative effects. With long-term use without breaks, this ingredient may interfere with diagnostic procedures of the colon. Taking a break of 30 or more days between use cycles will help maintain natural regularity. Not intended for long-term use.

Notice: This product contains Cascara Sagrada. Read and follow directions carefully. Do not use if you have or develop diarrhea, loose stools, or abdominal pain because Cascara Sagrada may worsen these conditions and be harmful to your health. Do not take this product before consulting a physician if you have frequent diarrhea or if you are pregnant, nursing, taking medication, or have a medical condition.
Other Information:
Contains dairy, soy.