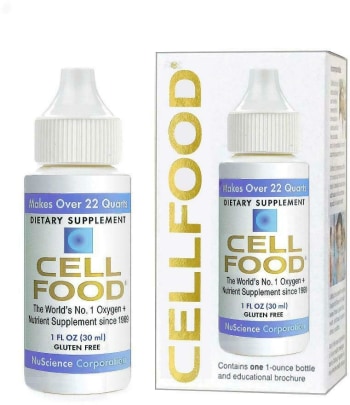 CellFood, 1 fl oz (30 mL) Dropper Bottle
Our Price:
$27.95
(18% Off)
Supplement Facts
Serving Size:

8 Drops

Servings Per Container:

90
product

Amount
Per Serving
% Daily
Value
(DV)
CellFood Proprietary Blend

Deionized Water, Deuterium Sulfate, Catalyst Altered Water (With Fossilized Organics), Calcified Seaweed (from Lithothaminum Calcareum), Grape Juice, Magnesium Sulfate

300 mgAmount
Per Serving
‡

Daily Value
Directions:
Adults take 8 drops in 8 oz. of purified or distilled water, or juice, 3 times per day— or during stress or physical activity. May be taken with or without meals. You may mix 1 day's amount in water bottle and sip throughout the day. Each 1-oz. bottle of Cellfood® contains 90 servings of 8 drops each, or 720 drops.
WARNING:
Keep out of reach of children. Avoid eye contact; rinse well if dropped in eyes. If pregnant, nursing or under medical care, consult your health professional.

Pour with care. Before Cellfood is mixed with water or juice, its beneficial organic enzymes can compromise countertops, clothing and other surfaces. Store bottle on tray.
Other Information:
Some may experience a cleansing or detoxification response. If so, halve dosage at beginning, then gradually resume full dosage.

CELLFOOD is a proprietary ionic formula that contains 78 ionic minerals, 34 enzymes, 17 amino acids, electrolytes and dissolved oxygen— and utilizes a unique water-splitting technology.