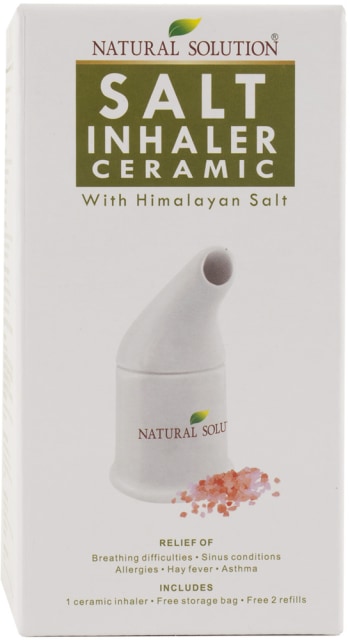 Himalayan Salt Air Inhaler Plus Salt Refill, 1 Unit
Our Price:
$19.99
(50% Off)
Other Ingredients:
Active Ingredients (in each packet): Pure Himalayan Pink Salt
Purpose: Salt Inhaler

Package contents:
Himalayan Salt Inhaler
Himalayan Pink Salt: 2 free refill packets (1.4 oz/40g each)
Instruction Manual
Storage Bag
Directions:
1. Rinse with warm water.
2. Dry completely.
3. Fill with coarse salt.
4. Ready for use.

The Himalayan salt air inhaler is empty when purchased. Do not fill it with salt crystals (provided) unless the device is completely dry. Remove the silicone plug from the bottom of the salt air inhaler and fill it with approximately 2.5 oz. (70 grams) or approximately 1/3 of the supplied Himalayan salt crystals. Replace the silicone plug. Your salt air inhaler is ready for use.

For optimal results, inhale through mouth and exhale through nose. Place the mouth piece between your lips and draw gently through your mouth. Exhale through your nose. DO NOT EXHALE BACK THROUGH THE DEVICE. You may experience some coughing or sneezing when the inhaling process starts. The recommended duration of usage is 15 – 20 minutes per day. Use regularly all year round for best results
Claims:
Uses: Temporarily relieves symptoms associated with:
-Breathing difficulties
-Sinus conditions
-Allergies
-Hay fever
-Asthma
WARNING:
Stop use and ask a doctor if feeling is uncomfortable or symptoms are not relieved.

Use only by one person. Wash with soap and water after each use. Top rack of dishwasher safe. Do not heat in microwave. Keep out of reach of children and pets.
Other Information:
Inspect saline packets for integrity. Do not use saline packets if torn or open. Protect saline packets from excessive heat and moisture.