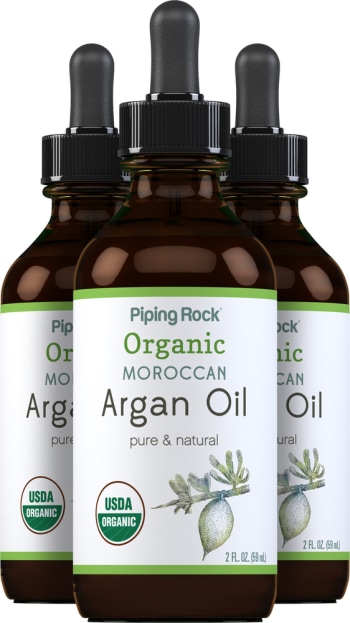 Argan Oil Pure Moroccan Liquid Gold (Organic), 2 fl oz (59 mL) Dropper Bottle, 3 Dropper Bottles
Our Price:
$26.99
(40% Off)
What is Argan Oil?
PipingRock's Argan Oil is cold-pressed from the nuts of the argan tree that thrives in the arid climate of southwestern Morocco. It supplies beneficial essential fatty acids in addition to vitamin E and nourishing age-defying antioxidants. It's no wonder argan oil has received a raving reputation for promoting glowing skin and lustrous hair! Discover for yourself why argan oil is called "liquid gold" in the beauty industry with PipingRock's Argan Oil!
What does Argan Oil do?
Do you desire luxurious hair so soft you can't help but run your fingers through it? How about moisturized, radiant skin that positively beams with confidence? Nails that are clear, strong and beautiful? Truly living up to its nickname of Liquid Gold, argan oil helps to support your beauty routine from head to toe.
Pure Moroccan Argan oil has a naturally light, nutty aroma. Add your favorite essential oils to create an oil that is uniquely yours! You can even combine with carrier oils such as sweet almond or jojoba to create a truly spa-like skin supporting massage oil!
About PipingRock's Quality
You've found your One-Stop-Shop for Beauty & Personal Care at PipingRock. Our products are perfected with premium-sourced ingredients and created in our own "GMP Certified" manufacturing facilities. We verify PipingRock products with third-party, FDA-registered agencies to ensure quality & purity. Each product goes through hundreds of checks, in-process and post-production. Furthermore, we can assure you that everything that is on our label is consistent with our formulas. We guarantee purity, potency, safety and innovation in everything we do.